Lanza promoted to GEICO assistant VP
WASHINGTON, D.C., July 31, 2018 – Jared Lanza has been elected an officer by the GEICO Board of Directors; he will be assistant vice president of the Competitive Advantage Leadership Group, a division dedicated to improving the customer experience.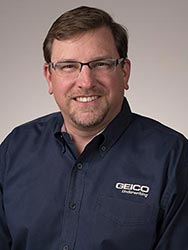 Lanza had been director of corporate planning and control in the treasurer department at GEICO corporate headquarters in Chevy Chase, Maryland, since 2016. Before that, he served as director of retention programs in marketing.
Lanza began his GEICO career in 1996 as an analyst in the planning department at GEICO headquarters. In 1998, he transferred to GEICO's Fredericksburg, Virginia, regional office to enter a management internship program. He held several management positions in planning, service, claims and sales before returning to GEICO headquarters in 2005 to serve as a product manager in Pricing and Product Management.
In 2007, Lanza transferred to GEICO's regional office in San Diego, California. There, he served in multiple capacities, including service director and director of Los Angeles operations. He returned to GEICO headquarters in 2015 to work in marketing.
Lanza is a CPCU (Chartered Property Casualty Underwriter). He earned a bachelor's degree in finance from Stetson University.
Contact Us
We're here for you 24 hours a day, 7 days a week. The quickest way to contact us is through our app or online. You can also ring us by phone.