GEICO names Andrukonis assistant VP of underwriting for Dallas region
DALLAS, July 31, 2018 – Jason Andrukonis has been elected an officer by the GEICO Board of Directors. Andrukonis will be assistant vice president of underwriting for GEICO's regional operations in Dallas, Texas.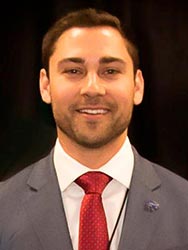 Andrukonis had previously served as service director at the company's Buffalo, New York, regional office. He began his GEICO career in 2013 as part of the Emerging Leaders Program for talented recent college graduates. As part of the program, he successfully completed rotations in auto sales, auto service, regional planning, all levels of liability claims and sales supervision at GEICO's regional office in Fredericksburg, Virginia.
In 2015, he was promoted to service manager. He served in that role for two years before his promotion to director in Buffalo.
Andrukonis is a 2012 summa cum laude graduate of West Virginia University, where he earned a bachelor's degree in business management. He also sits on the board of Next Generation United, a body of the United Way of Buffalo and Erie County that engages young leaders in bettering their community.
Contact Us
We're here for you 24 hours a day, 7 days a week. The quickest way to contact us is through our app or online. You can also ring us by phone.