John Ratliff to lead new GEICO local office in Durham
DURHAM, N.C., Aug. 2, 2018 – John Ratliff will lead a team of licensed GEICO agents at the company's new Triangle-area local office at 7011 Fayetteville Rd., Unit 103 in Durham.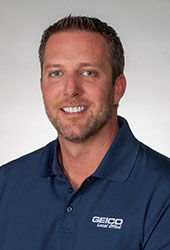 "The Durham area continues to see dramatic population growth, attracting a large number of young professionals and growing families due to the high demand for tech jobs," Ratliff said. "We look forward to building a long-term relationship with residents living near Durham, Chapel Hill, Cary, Pittsboro and Morrisville and meeting all their insurance needs as they change over time."
Joining Ratliff, who has worked in the insurance industry for more than 20 years, are staff members Taisia Johnson, Christine Teeter, Brittny Howard, Tanara Lee, Howard Warner and Andrea Ratliff. In addition to auto insurance, the team can assist with arranging coverage for homeowners, renters, condos, umbrella and more. For those who like to spend time outdoors in either the North Carolina mountains or on the coast, staff members also can help with insurance policies for motorcycles, RV's, boats and ATV's.
Additional savings for customers who purchase multiple policies, as well as for those who are members of special association and alumni groups may be offered. For example, alumni from the University of North Carolina, Davidson College, Elon University, Campbell University and High Point University may qualify for a discount.
Weekday hours for GEICO's Durham local office are 9 a.m. to 6 p.m., and Saturdays from 10 a.m. until 6 p.m. To get a quote or learn more visit GEICO's Durham local office online or call (919) 536-5577.
Contact Us
We're here for you 24 hours a day, 7 days a week. The quickest way to contact us is through our app or online. You can also ring us by phone.