Sandy Perkins' local GEICO office moves to new south Denver-area location
CENTENNIAL, Colo., Sept. 4, 2018 – GEICO's South Denver area local office, headed by agent Sandy Perkins, has relocated to 6840 S. University Blvd., Suite 390 in Centennial, across from the Streets of Southglenn.
At Perkins' local office, it's a family affair. Joining her on the office's staff is her daughter Lauren and her son Brooks, as well as Missy Maliki, Josh Raterman, Steve Ormsby, David Melkonian and Kayla Douglas. All team members fully understand the insurance needs of the Rocky Mountain lifestyle. In addition to auto insurance, agents can help arrange coverage for homeowners, renters, motorcycle, boat and umbrella.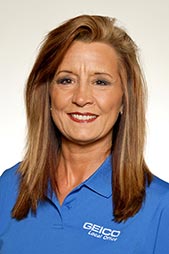 Agents work to bring savings to customers whenever possible, whether through multi-policy discounts or for individuals who are members of certain alumni and professional organizations. For example, University of Colorado and Colorado State alumni may qualify for an additional discount.
GEICO's south Denver local office supports the local community by participating in the Junior League of Denver, a women's organization committed to promoting volunteerism. Additionally, the office sponsors the annual South Metro Professional Firefighters Foundation golf tournament, which raises funds to help area first responders in their times of need. The office also is a member of the Littleton Rotary Club, the South Metro Board of Realtors and the Highlands Ranch Chamber of Commerce.
Hours for the south Denver local office are 9 a.m. to 6 p.m. p.m. Monday through Friday, and 10 a.m. to 2 p.m. on Saturday. To get a quote or learn more visit GEICO's South Denver local office online or call (303) 730-2426.
Contact Us
We're here for you 24 hours a day, 7 days a week. The quickest way to contact us is through our app or online. You can also ring us by phone.