GEICO sponsors 'Insurance Storefront' for new JA Finance Park at Thomas Edison High School of Technology
WASHINGTON, D.C., Oct. 17, 2018 – GEICO is proud to partner with Junior Achievement of Greater Washington to sponsor the "Insurance Storefront" at the JA Finance Park at Thomas Edison High School of Technology in Silver Spring, Maryland. The sponsorship is part of GEICO Cares, the insurance company's initiative to support local communities throughout the country.
GEICO's Insurance Storefront will be one part of the center's digital learning environment which aims to teach students about making financial decisions using real-life experiences and clear information. It will explain the importance of insurance and why having insurance fits into a smart financial plan.
Volunteer educators will use specific examples, explain industry terminology, and provide suggestions for ways to save on insurance costs.
"We want to challenge students to learn how to protect their futures," says Rynthia Rost, GEICO's vice president of public affairs and head of the GEICO Cares program. "We believe that the more you know about insurance, the better prepared you will be to handle life's ups and downs." She pointed out that the Insurance Storefront graphics provide clear and engaging visuals, and were designed by GEICO's internal graphics design team.
GEICO has had a long-standing partnership with Junior Achievement, and is a sponsor of the JA Finance Park in PG County, Maryland, as well as this new Silver Spring location. It has been a proud Montgomery County, Maryland, business since its headquarters opened over 50 years ago.
GEICO is a member of the Berkshire-Hathaway family of companies, which is ranked as the top global insurance group in the world.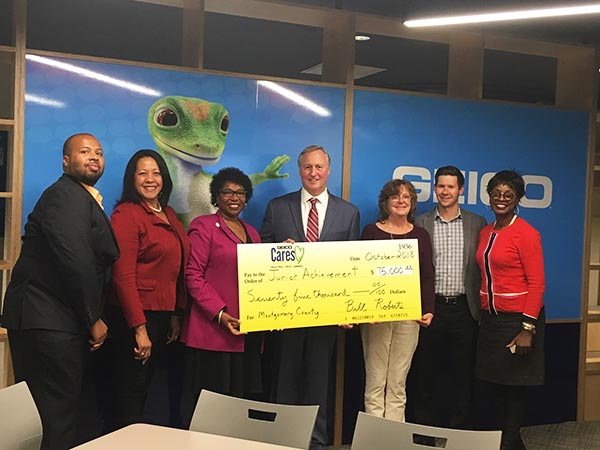 GEICO associates pose for a check presentation in the new Junior Achievement Finance Park room.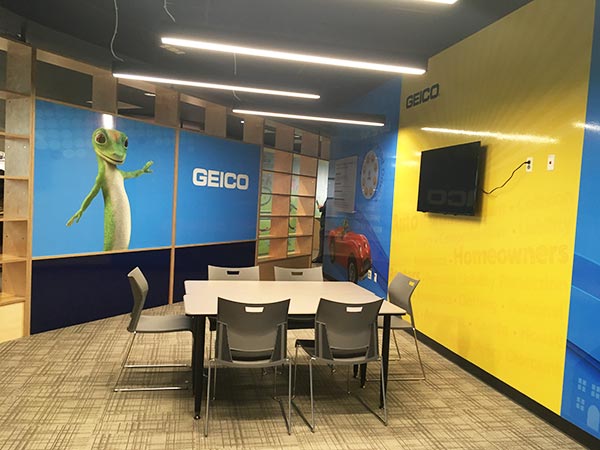 GEICO's Junior Achievement Storefront.
Contact Us
We're here for you 24 hours a day, 7 days a week. The quickest way to contact us is through our app or online. You can also ring us by phone.