Mendez Hollis to lead new GEICO local office in Columbus for western Georgia customers
COLUMBUS, Ga., Nov. 1, 2018 – Mendez Hollis will lead a team of licensed agents at GEICO's new local office in Columbus at 3905 Victory Drive.
"Since Columbus is Georgia's second largest city, we have an excellent opportunity to grow GEICO in this part of the state," Hollis said. "Our local agents look forward to helping our customers save on their insurance as we build long-term relationships with them."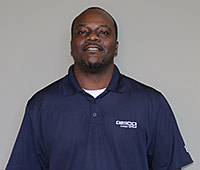 Hollis comes from a military family and takes pride in helping veterans and active military members. The Columbus local office team can work with military members stationed at Fort Benning to see if they qualify for an additional discount.
Hollis and his staff members Risele Bailey, Kim Edwards, LaKandrea McCarthy and Shirley Hollis have deep GEICO roots. Nearly all the team members have worked at GEICO's regional office in Macon, Georgia, prior to moving to the Columbus local office.
Along with auto insurance, staff members at the Columbus local office can assist customers with coverage for homeowners, renters, umbrella, identity theft and more forms of insurance.
For those with an outdoorsy lifestyle, agents also can help with coverage for RV's, motorcycles, ATV's and boats. In addition to Georgia, agents are licensed to write insurance for Alabama residents as well.
GEICO agents in the Columbus local office look to bring savings to policyholders through multi-line and special association and alumni discounts. For example, alumni from University of Georgia, Georgia Southern University and Georgia State University may qualify for additional savings.
Weekday hours for GEICO's Columbus local office are 9 a.m. to 5 p.m., and Saturdays from 10 a.m. until 2 p.m. To get a quote or learn more visit GEICO's Columbus local office online or call (706) 689-2787.
Contact Us
We're here for you 24 hours a day, 7 days a week. The quickest way to contact us is through our app or online. You can also ring us by phone.