GEICO says these 5 tips will add to your holiday safety
WASHINGTON, D.C., Dec. 9, 2018 – GEICO urges you to remember five things that could add up to a safer season while you're out running errands for the holidays:
Cover your packages: Holiday shopping takes time, and you wouldn't want your efforts to end up in the hands of thieves. Keep a blanket or drop cloth in your vehicle to cover valuable items purchased on shopping trips.
Lock your doors: Take a moment to make sure all car doors are locked before getting absorbed in smartphone notifications and other distractions. Unlocked vehicles become easy targets for thieves.
Prevent parking lot perils: Parking lots get more crowded this time of year, and drivers need to pay close attention to pedestrians and other drivers. The mall lot isn't a racetrack—drivers should always take their time and remember to yield at all crosswalks. Keep distractions from your smartphone, the car's infotainment system and other passengers at bay so you don't miss someone trying to cross.
Tie down your tree: Use strong rope or ratchet straps to properly secure your Christmas tree. Consider researching how to tie common knots so you're prepared ahead of time.
Clear your car: If you encounter winter weather during holiday errands, take time to clean snow and ice off your car to maximize visibility. Keeping the car's roof clean also prevents large chunks of snow and ice from flying off and striking other vehicles.
For more safe driving tips all year long, visit GEICO's Safe Driving Resources page.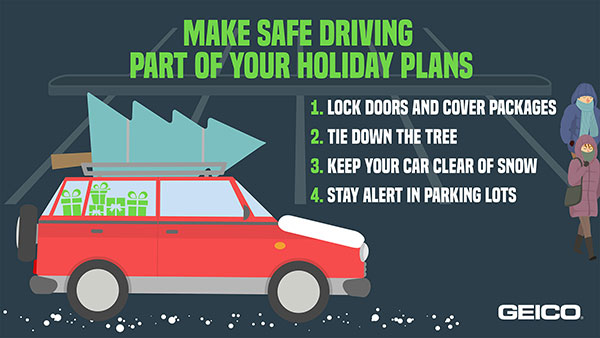 Contact Us
We're here for you 24 hours a day, 7 days a week. The quickest way to contact us is through our app or online. You can also ring us by phone.