GEICO names Martha Furnas vice president of insurance operations in California, Hawaii and Alaska
SAN DIEGO, Calif., Jan. 28, 2019 – GEICO has named Martha Furnas vice president at its regional location in San Diego, where she will manage insurance operations for California, Hawaii and Alaska.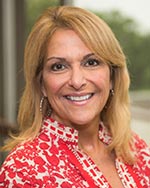 Furnas joined GEICO in 1981 at the company's San Diego location and advanced through several roles with increasing responsibility in insurance sales, service and underwriting.
Furnas was selected to participate in GEICO's Executive Assistant program at the company's corporate headquarters in Chevy Chase, Maryland. Upon completion, she returned to San Diego to direct insurance sales and service operations.
In 2003, Furnas was chosen to open and manage GEICO's newest location in Tucson, Arizona. Under her leadership, this office grew from a team of 50 associates to a family of more than 1,500 with responsibility for GEICO's insurance operations in seven western states. During her tenure in Tucson, Furnas was elected assistant vice president by the GEICO board of directors, and was promoted to vice president in 2009.
Furnas is a graduate of the University of Redlands in California with a degree in business administration.
Contact Us
We're here for you 24 hours a day, 7 days a week. The quickest way to contact us is through our app or online. You can also ring us by phone.