GEICO asks: Are you prepared for more winter driving if the groundhog sees his shadow?
WASHINGTON, D.C., Jan. 30, 2019 – Regardless of whether the groundhog sees his shadow or not, one thing is for certain—winter doesn't officially end until March 20. That means plenty more chances exist for inclement weather, and GEICO asks drivers to prepare accordingly with the following tips.
Clear your car: Prior to heading out after a storm, clean snow and ice off your car to maximize visibility. Remember to also clear the roof, as large chunks of snow and ice can fly off and strike other vehicles, creating a hazard.
Inspect wipers and washer fluid: Worn wiper blades smear water on the windshield, limiting visibility. Keep your vehicle's windshield washer fluid reservoir filled so you can clear the windshield of salt and grime whenever necessary.
Check tire pressure: Cold weather can cause tires to lose pressure. Driving with tires at the incorrect pressure affects steering and can cause a blowout risk according to the National Highway Traffic Safety Administration. Look on the sidewall of the tire to see what the correct pressure is for your car's tires.
Keep your gas tank close to full: Winter weather can cause unexpected traffic jams, and you don't want to have to worry about conserving fuel.
Mind your speed: It's vitally important to take it slow on slippery roads, and increase your following distance.
Keep supplies handy: Ice scrapers, a snow shovel, jumper cables, a flashlight, a blanket and a spare phone charger can help if you find yourself stranded in winter weather.
Monitor the road surface: A road that appears wet could actually have black ice forming on it. Prepare to slow down if you approach an icy surface.
For more safe driving tips, visit GEICO's Safe Driving Resources page.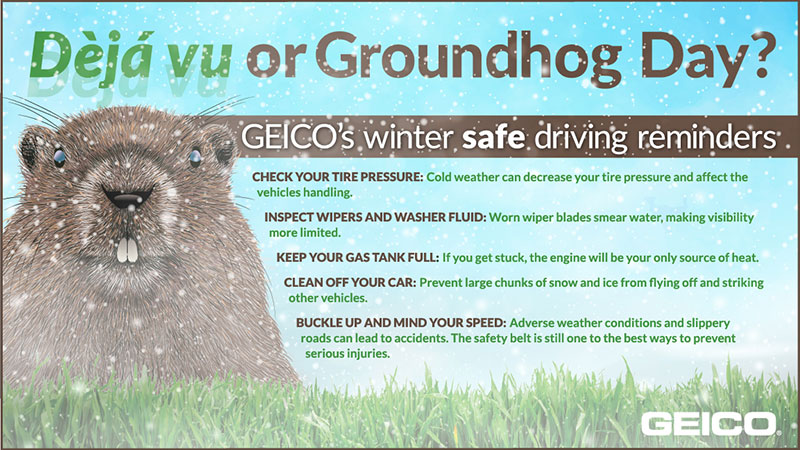 Contact Us
We're here for you 24 hours a day, 7 days a week. The quickest way to contact us is through our app or online. You can also ring us by phone.