GEICO local office in Oklahoma City to host grand opening on Feb. 5
OKLAHOMA CITY, Okla., Feb. 1, 2019 – Warren Stowe, owner of GEICO's newest local office in Oklahoma City, invites residents to his office grand opening on Tuesday, Feb. 5, from 2-4 p.m. He will host the ribbon-cutting event at the office at 1500 W I-240 Service Rd Suite A7.

Stowe noted the GEICO NASCAR Show Car will be on display starting at 11 a.m. for photo opportunities, and 101.9 The Twister will broadcast live from the event. Stowe and his staff members will be on hand to introduce visitors to GEICO's full range of insurance products.

"GEICO has a tremendous opportunity to grow in Oklahoma, and my team's goals are to take care of our customers' individual insurance needs while also making a positive impact in the community," Stowe said. "We're eager to introduce ourselves to south Oklahoma City and its surrounding towns at our grand opening ceremony, and look forward to bringing GEICO's competitive rates to our customers."

Stowe is no stranger to GEICO, having worked in several sales management roles at both a GEICO regional office and other local offices prior to opening his Oklahoma City location. Stowe and his staff members Claudio Villegas, Jane Portillo, Luke Lucas, Brandon Loomis, Diana Pierre and Blake Castillo can help with auto insurance, as well as coverage for homeowners, renters, condos, motorcycle, umbrella, identity theft protection and more.

Military members and government employees at Tinker Air Force Base, Will Rogers Air National Guard Base or Monroney Aeronautical Center may qualify for discounts.

GEICO agents in the Oklahoma City local office also look to bring savings to policyholders through multi-line and special association and alumni discounts. For example, alumni from Oklahoma University, Oklahoma State University, Oklahoma City University, Northwestern Oklahoma State University, Southeastern Oklahoma State University and Southwestern Oklahoma State University may qualify for additional savings.

Weekday hours for GEICO's Oklahoma City local office are 9 a.m. to 8 p.m., and Saturdays from 10 a.m. until 6 p.m. To get a quote or learn more visit GEICO's Oklahoma City local office online, like them on Facebook, or call (405) 248-9509.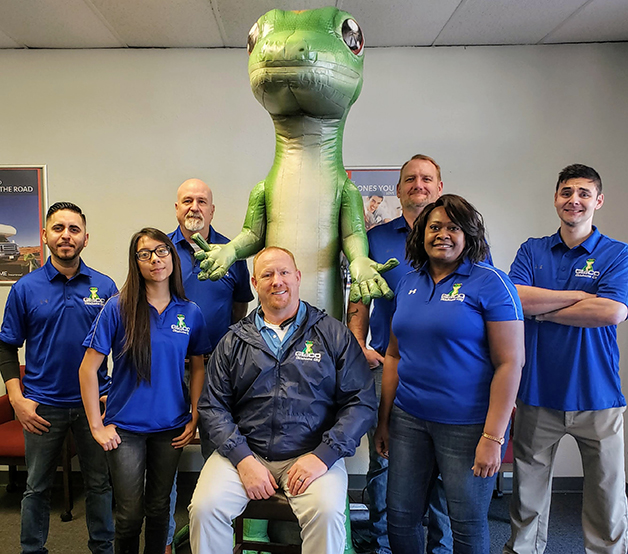 Contact Us
We're here for you 24 hours a day, 7 days a week. The quickest way to contact us is through our app or online. You can also ring us by phone.