Aaron Zazzera to lead GEICO local office in Mission Valley
SAN DIEGO, Calif., Oct. 9, 2019 – Aaron Zazzera will lead a team of licensed agents at GEICO's new local office in the Mission Valley neighborhood of San Diego at 1400 Camino de la Reina Suite 120/121.
Zazzera's GEICO roots run deep, as he has worked in sales management roles at both the company's regional office in Poway, California, as well as the western United States managing GEICO local office operations for more than nine years. Zazzera and his staff members—Michael Flood, Carly Greer, Jocelyne Cardenas, Marwa Sayegh, Omar Lopez, Priscilla Penaloza, Kevin Smalls Jr., Omar Khan-Zamorano, Jacob Yarbrough, Rachel Zazzera and Michelle Burgard—can assist customers with car insurance policies, as well as coverage for homeowners, renters, condos, motorcycles, boats, RV's, ATV's, umbrella, Mexico international insurance and more forms of insurance.
Several staff members in Zazzera's office speak Spanish, Arabic and Chaldean and can assist multi-cultural customers living in the San Diego area.
"We're eager to bring GEICO's competitive rates and outstanding customer service to families and individuals living in Mission Valley, as well as those looking to move here to one of the many new high-rises currently under construction," Zazzera said. "We have insurance products to meet the needs of our customers' entire lifestyle, and we look forward to working with them as those specific needs change over time."
Staff members at GEICO's Mission Valley local office can work with military members at Naval Base San Diego as well as MCAS Miramar to see if they qualify for a military member discount.
GEICO agents in the Mission Valley local office also look to bring savings to policyholders through multi-line and special association and alumni discounts. For example, alumni from San Diego State University, University of San Diego, University of Southern California, California State University campuses, Southern California University of Health Sciences and University of California campuses may qualify for additional savings.
The Mission Valley local office gets involved in the local community by supporting the Leukemia & Lymphoma Society, and Zazzera serves as chapter advisor for the Alpha Kappa Psi co-ed business fraternity at his alma mater, San Diego State University.
Weekday hours for GEICO's Mission Valley local office are 9 a.m. to 8 p.m., and Saturdays from 10 a.m. until 6 p.m. To get a quote or learn more visit GEICO's Mission Valley local office online or call (619) 321-3789.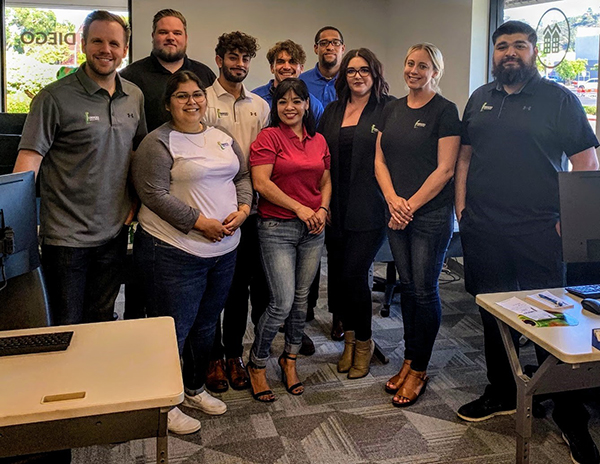 Contact Us
We're here for you 24 hours a day, 7 days a week. The quickest way to contact us is through our app or online. You can also ring us by phone.