GEICO's Augusta local office under new ownership
AUGUSTA, Georgia, Dec. 18, 2019 – GEICO's Augusta local office at 3316 Dean's Bridge Rd. is now under new ownership. Jay Harden has assumed responsibilities as GEICO's local agent in Augusta, and takes over for Lou Cheek, who managed the office alongside her late husband Charles for more than 30 years.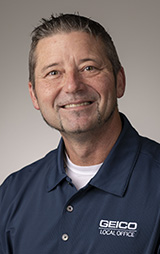 Harden is no stranger to GEICO, having worked at the company for nearly 25 years in several sales management roles. Harden and his staff members—Ronda Treadwell, Tabitha Sapp, Ree Walker, Lataffie Douglas, Lynn Munger and Katie Harden—can assist customers with car insurance policies, as well as coverage for homeowners, renters, condos, motorcycles, boats, identity theft protection, jewelry, umbrella and more forms of insurance.
Agents at the Augusta local office are licensed to write insurance policies for both Georgia and South Carolina customers.
"Our goal is to be the go-to local insurance agency for our current and future policyholders," Harden said. "GEICO has a well-established history in Augusta, and we look forward to continuing the decades-long tradition of delivering outstanding personalized service and competitive rates to our customers."
Harden, who served in the Army, understands the unique insurance needs of military members. As nearby Fort Gordon continues to add more military personnel, the Augusta local office looks forward to working with military families to see if they qualify for GEICO's military discount.
GEICO agents in the Augusta local office also look to bring savings to policyholders through multi-line and special association and alumni discounts. For example, alumni from University of Georgia, Georgia Southern University, Georgia State University, Middle Georgia State University and University of South Carolina may qualify for additional savings.
Weekday hours for GEICO's Augusta local office are 9 a.m. to 5:30 p.m., and Saturdays from 10 a.m. until 2 p.m. To get a quote or learn more visit GEICO's Augusta local office online or call (706) 793-7290.
Contact Us
We're here for you 24 hours a day, 7 days a week. The quickest way to contact us is through our app or online. You can also ring us by phone.