Federal Employees' Public Service Awards
Originally founded to serve federal employees, GEICO has a long history with federal government employees. Even today, GEICO has a special relationship with the men and women who serve all of us in carrying out the important work of our government—making our country a better, safer, and healthier place to live.
GEICO Public Service Awards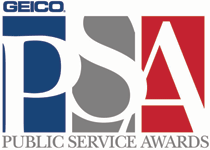 All too frequently, the public does not learn of the accomplishments of federal workers. This lack of recognition is unfortunate because there are many career civil service employees who consistently excel in the performance of their duties. In the case of a select few, their dedication to professionalism has resulted in especially noteworthy accomplishments exemplifying the highest level of service to the public.
In 1980, The GEICO Public Service Awards were established to emphasize GEICO's belief that the contributions of many hardworking, talented federal employees deserve special recognition. The annual awards honored a select few federal employees. GEICO is very proud to have organized and sponsored the Public Service Awards program.
The End Of An Era
This program is no longer in effect. We thank and congratulate the many nominees and winners.
Contact Us
We're here for you 24 hours a day, 7 days a week. The quickest way to contact us is through our app or online. You can also ring us by phone.