GEICO Express Services: No Login Required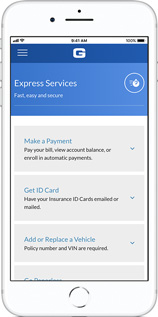 If you're a GEICO customer, you may already know that "15 minutes could save you 15% or more on car insurance", but did you know GEICO can also save you time? GEICO Express Services is a quick, convenient, and secure way to manage your policy online. It's perfect for those times when you just need to:
There's no need to register for the site or even log in to your policy. All you need is your ZIP code and either your phone number, policy number, or Social Security number. You can easily manage your policy in a couple minutes from your smartphone or computer and then get back to your day. GEICO Express Services—it truly is an express lane for completing your insurance needs online.
Contact Us
We're here for you 24 hours a day, 7 days a week. The quickest way to contact us is through our app or online. You can also chat for immediate help.