GEICO's Support Of The Military Community
Supporting Military Members And Their Families
GEICO provides financial assistance to many worthy organizations that support our Military members and their families.
Vietnam Veterans Memorial Fund
GEICO is a sponsor of the Vietnam Veterans Memorial Fund's "The Wall That Heals." This half-scale replica of the Vietnam Veterans Memorial in Washington D.C. travels throughout the country and also features a traveling museum and information center. Learn more about The Wall That Heals.
USO
The USO provides many beneficial programs for our troops and their families. GEICO supports the overall mission of the USO and is partnered with USO centers in Chicago, Atlanta, Tampa, Metro DC, North Carolina, and Hampton Roads/Central Virginia. In addition to our corporate donations, GEICO associates contribute many hours of volunteer time to the following regional USO chapters:
Armed Services YMCA
GEICO is a corporate sponsor of the Armed Services YMCA and actively participates with them in their many programs focused on quality of life issues for young Military families.
Tragedy Assistance Program (TAPS)
GEICO provides financial support to the Tragedy Assistance Program for Survivors. TAPS is a national non-profit organization made up of, and providing services to, all those who have lost a loved one on active duty with the Armed Forces.
Fisher House Foundation
The Fisher House Foundation provides free or low cost lodging to veterans and Military families receiving treatment at Military medical centers. GEICO is pleased to support this worthy organization.
Scholarships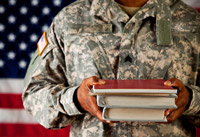 Through special programs offered by several Military affiliated professional organizations and with the University of Maryland University College, GEICO assists Military Members and their families in the quest for higher education. GEICO provides financial backing (but does not administer) the scholarship programs.
Annual donations are made to support the scholarship programs of the following organizations:
Navy SEAL Foundation
Navy Chief Petty Officers Association
Special Operations Warriors Foundation
Wings Over America
Anchor Scholarship Foundation
Dolphin Scholarship Foundation
An annual Army ROTC scholarship through the Association of the US Army
University of Maryland University College's GEICO Federal/Military Scholarship
To search for other scholarships available to the Military community, visit the Military Scholarship Finder.
Contact Us
We're here for you 24 hours a day, 7 days a week. The quickest way to contact us is through our app or online. You can also ring us by phone.