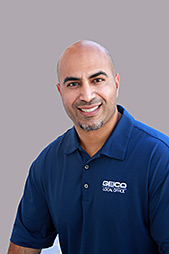 Basem Hamideh is your local GEICO insurance agent in Temecula, California.
Hi! My name is Basem Hamideh and I've been in the insurance industry for 17 years. I look forward to helping policyholders in Temecula save money.
Basem understands more than just insurance in Temecula, California.
One of my team's biggest goals is to help our policyholders save money on car insurance, but our expertise doesn't stop there. We can help bundle your auto coverage with homeowners insurance through the GEICO Insurance Agency—so don't forget to ask us about GEICO's Multi-Policy Discount.
Basem and his team are involved in the Temecula, California, community.
My team and I always look forward to supporting our friends and neighbors any way we can. Personally, I work with the Susan G. Komen foundation, the Palestine Children's Relief Fund, and United Way, as well as the Temecula Chamber of Commerce.
We look forward to hearing from you!
We are conveniently located just off of Interstate 15 exit 79. Our office is in Rancho Crossroads Plaza near the intersection of Winchester Road and Ynez Road.
Office Hours
Please call or email your local GEICO Office to learn more as office hours may vary.
Monday: 9:00 AM - 6:00 PM
Tuesday: 9:00 AM - 6:00 PM
Wednesday:9:00 AM - 6:00 PM
Thursday: 9:00 AM - 6:00 PM
Friday: 9:00 AM - 6:00 PM
Saturday: 10:00 AM - 6:00 PM
Sunday: Closed