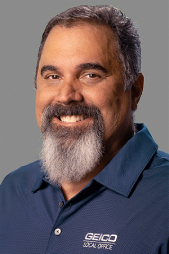 You could save more with your local GEICO agent in Torrance.
The beach, the surf, the spas and the sun—all of these are just a part of living in Torrance.
Those who really know what it's like to live here know that it's a unique, easy-going city with a welcoming spirit—a lot like your GEICO insurance agents in Torrance. That's because your local GEICO agents are your neighbors.
Torrance is one of the largest cities in Los Angeles County and the place Kevin Berger, your local GEICO agent, calls home. Kevin has been an insurance agent for over 10 years, and having grown up in the area, this SoCal native is very familiar with the unique lifestyle that makes up the community and its diverse culture. Knowing his community means having a deeper understanding of what it is you need and providing service with a personal touch.
Along with some of the best weather around, Torrance is home to many beautiful stretches of roadway—Paseo De La Playa, Palos Verdes Blvd, N Catalina Ave, Pacific Coast Highway, the list goes on and on. Before you venture out for an incredible ride along one of these roadways, call or visit a Torrance GEICO insurance agent to get a free quote on car, RV, motorcycle, homeowners, condo or renters insurance. The friendly agents here at Kevin's office are ready to help custom-tailor a policy around your specific needs.
While you're at it, be sure to let us know if you're on Active Duty, Retired, in the Reserves or part of the National Guard. You could save even more with a Military Discount!
The Torrance office is close by.
Kevin's team at the local GEICO office is conveniently located at the intersection of Hawthorne and Del Amo Boulevard, in Best Plaza. If you are traveling on the 405 Freeway exit onto Hawthorne Blvd and head south. Look for them on your left hand side after passing 190th Street. We are looking forward to meeting you!
Office Hours
Please call or email your local GEICO Office to learn more as office hours may vary.
Monday: 9:00 AM - 7:00 PM
Tuesday: 9:00 AM - 7:00 PM
Wednesday: 9:00 AM - 7:00 PM
Thursday: 9:00 AM - 7:00 PM
Friday: 9:00 AM - 7:00 PM
Saturday: 10:00 AM - 5:00 PM
Sunday: Closed