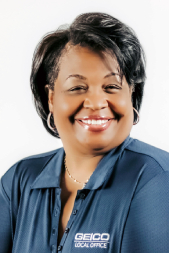 Meet Phyllis Johnson, your local GEICO insurance agent.
Hi! My name is Phyllis Johnson, and I have been in the Bay Area for over 15 years. I started my insurance career after advising clients on their finances for over 20 years. I decided to make a change and apply to open a local GEICO office because I wanted to help families make sure their future was secure with the right home, car, or other insurance. I've always had a knack for providing guidance to families questioning how to protect their future and the future of their loved ones.
Choosing a career in insurance has allowed me to be a valued asset to the Vacaville community. I enjoy getting to know my neighbors in the surrounding area. My team and I are here to support the inclusion of everyone - that's why we have fluent Spanish speaking professionals. We look forward to help you obtain the right coverage for you and your family.
Learn about Phyllis Johnson, your GEICO insurance agent in Vacaville, California.
I believe it's important for each person to be properly insured, to shield them from any unexpected situations. My team and I take the time to make sure our customers have the best coverage we can provide before they walk out of our office.
In my spare time I enjoy reading autobiographies and nonfiction books. My family and I love to spend time participating in community activities and advocating for wellness and health for all. We also love to travel to historical landmarks throughout the US. Beautiful, blue Lake Tahoe is our favorite place to spend time together - there you'll find us boating, skiing, and swimming.
Phyllis Johnson understands more than just insurance in Vacaville.
Our expertise doesn't stop with car insurance. Do you serve at Travis Air Force Base? Our team could help with a special Military discount! Are you frequently on the San Francisco Bay? We could help insure your boat or personal watercraft, too! We can also help bundle your auto coverage with homeowners insurance through the GEICO Insurance Agency - so don't forget to ask us about GEICO's Multi-Policy Discount.
Phyllis Johnson and her team are involved in the Vacaville community.
My team and I love to cheer for Vacaville High School sports teams. We also root for the Sacramento Kings, Golden State Warriors, and San Francisco 49ers. We also enjoy attending any local activities happening in Vacaville. Personally, I work with the Vacaville Chamber of Commerce and the Sacramento Black Chamber of Commerce.
Phyllis Johnson is here for you in Vacaville, California!
Office Hours
Please call or email your local GEICO Office to learn more as office hours may vary.
Monday: 9:00 AM - 6:00 PM
Tuesday: 9:00 AM - 6:00 PM
Wednesday: 9:00 AM - 6:00 PM
Thursday: 9:00 AM - 6:00 PM
Friday: 9:00 AM - 6:00 PM
Saturday: 9:00 AM - 3:00 PM
Sunday: Closed