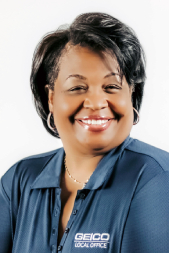 Meet Phyllis Johnson, your local GEICO insurance agent in Vacaville, CA!
Learn about Phyllis's experience prior to becoming a local GEICO insurance agent:
Over 15 years of relevant experience
Over 20 years of advising clients on finances.
As a local agent in your community, Phyllis has been involved in:
Vacaville Chamber of Commerce
Sacramento Black Chambers of Commerce
In addition to being your local agent, Phyllis enjoys:
Reading
Community activities
Traveling
Boating
Skiing
Swimming
As your local agent, Phyllis is licensed to serve you in:
Office Hours
Please call or email your local GEICO Office to learn more as office hours may vary.
Monday: 9:00 AM - 6:00 PM
Tuesday: 9:00 AM - 6:00 PM
Wednesday: 9:00 AM - 6:00 PM
Thursday: 9:00 AM - 6:00 PM
Friday: 9:00 AM - 6:00 PM
Saturday: 9:00 AM - 3:00 PM
Sunday: Closed