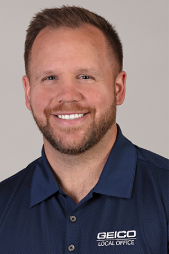 Aaron Zazzera is your insurance agent in San Diego, CA.
Hello! My name is Aaron Zazzera, your San Diego GEICO agent. As your agent, I look forward to helping you with your insurance needs any way I can. I'm an alumnus of San Diego State University (Go Aztecs!) and have been a licensed insurance agent here at GEICO since 2009.
Our community means a great deal to me and I feel honored to be a part of America's Finest City! Some of my passion projects include supporting local organizations, including the Leukemia Lymphoma Society and SDSU's Alpha Kappa Psi Chapter (Co-Ed Business Fraternity) where I've served as the Chapter Advisor for 3+ years.
Whatever your needs, we are looking forward to serving you! We even have agents in our Mission Valley office that speak English, Chaldean, and Arabic.
Aaron's team in San Diego, CA knows more than car insurance.
My team is ready to help you find the right coverage for your lifestyle as well as any insurance discounts that you might qualify for. We can help with auto insurance, motorcycle insurance, RV insurance, and boat insurance-though we don't stop there. We are also ready to help with homeowners and renters insurance, umbrella insurance, and even Mexico international insurance.
Aaron understands our Military in San Diego, CA.
There's a great Military presence in the heart of our community. My team understands the circumstances of our Military and we look forward to doing what we can to accommodate their unique needs. That's why we love to let our servicemen and servicewomen know that GEICO offers a special discount to Military and government employees as well as flexible payment options to help make life easier.
Visit the San Diego, CA GEICO office.
Our office is conveniently located in the heart of Mission Valley, right off of the Interstate 8 Mission Center Road exit and down Camino De La Reina. We are in the office Mon-Fri 9AM to 7PM, Sat 10AM to 6PM. We are available by phone Mon-Fri 9AM to 8PM, Sat 10AM to 6PM. Stop by and say hello!
Office Hours
Please call or email your local GEICO Office to learn more as office hours may vary.
Monday: 9:00 AM - 7:00 PM
Tuesday: 9:00 AM - 7:00 PM
Wednesday: 9:00 AM - 7:00 PM
Thursday: 9:00 AM - 7:00 PM
Friday: 9:00 AM - 7:00 PM
Saturday: 10:00 AM - 6:00 PM
Sunday: Closed