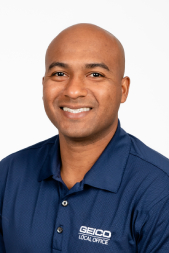 Meet Donald Sewell, your local GEICO insurance agent.
Hi! My name is Donald Sewell, and I've lived in San Diego for 35 years! I enjoy educating community members about insurance, regardless of whether they become a client or not. One of the most rewarding aspects of being in this industry is explaining what various coverages mean to people; doing so empowers customers to make the right decisions for their needs.
Learn about Donald Sewell, your GEICO insurance agent in Encinitas, California.
As an insurance agent, I focus on building long-term relationships. When I sell a policy, I don't see it as a one-time transaction. I became an agent because I want to provide peace of mind and the right protection for my neighbors.
In my free time, I like to cycle. I have even done a dualathlon, which is like a triathlon but with just cycling and running. Spending time with my family is important to me, as well — I think it's important to have a good balance in life. Traveling and camping are some of my favorite things to do, since they are great ways to spend time with family. I also enjoy watching the Padres and the San Diego State Aztecs.
Donald Sewell understands more than just insurance in Encinitas.
We can help with more than just car insurance. Do you serve at Marine Corps Base Camp Pendleton? You may be able to get a special Military discount! We can also help bundle your auto coverage with homeowners insurance through the GEICO Insurance Agency — so don't forget to ask us about GEICO's Multi-Policy Discount.
Donald Sewell and his team are involved in the Encinitas community.
My team and I love attending local events, including the San Diego County Fair, Del Mar horse races, Good Guys Car Show, and San Diego Comic Con.
Donald Sewell is here for you in Encinitas, California!
Office Hours
Please call or email your local GEICO Office to learn more as office hours may vary.
Monday: 9:00 AM - 6:00 PM
Tuesday: 9:00 AM - 6:00 PM
Wednesday: 9:00 AM - 6:00 PM
Thursday: 9:00 AM - 6:00 PM
Friday: 9:00 AM - 6:00 PM
Saturday: 9:00 AM - 3:00 PM
Sunday: Closed