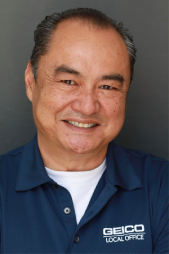 Meet Vu Muth, your local GEICO insurance agent.
Hi! My name is Vu Muth, and I've lived in San Diego for over 20 years! My previous career was in financial services where I helped people build wealth. Now here I am working with people on the other end - helping them protect all that they've built!
If you prefer to do business in Vietnamese, Cantonese, or Japanese, I have bilingual staff available to help you.
Learn about Vu Muth, your GEICO insurance agent in San Diego, California.
Most people are not familiar with the finite details of how insurance really protects them. Many individuals just see it as something that is required without really understanding how it works. They may not see how it can save them from financial hardship, and in many cases, catastrophic financial loss. That's why I got into the business!
I have many interests! I love deep-sea fishing on local and multiday boats, wild boar hunting in central California, street motorcycle riding, car meets and track days in southern California. I'm really big into stateside and international travel, as well as skiing and snowboarding family vacations during the winter season. I am an avid motorcycle rider here in Southern California, and am already looking for my next bike.
Vu Muth understands more than just insurance in San Diego.
We can help with more than just car insurance. Do you own a boat or personal watercraft? We can help you get the right coverage before you head out on Cuyamaca Lake. If you park your RV while visiting Cleveland National Forest or Cuyumaco Campground, ask how we can help cover your home away from home. Do you serve at Marine Corps Air Station Miramar, Camp Pendleton Marine Base, Point Loma Naval Base, or Coronado Naval Base? You could get a special Military discount! We can also help bundle your auto coverage with homeowners insurance through the GEICO Insurance Agency - so don't forget to ask us about GEICO's Multi-Policy Discount.
Vu Muth and his team are involved in the San Diego community.
Personally, I work with the Poway Chamber of Commerce. My team and I love attending local events, including San Diego Restaurant Week, the Vietnamese Tet Festival, the Asian Moon Festival, Cinco De Mayo, and the San Diego County Fair. We also like getting out to the Bridal Expo, San Diego ComiCon, Del Mar Fall Racing, the Miramar Airshow, Kids Free San Diego, and the Wonderfront Music and Art Festival.
Vu Muth is here for you in San Diego, California!
Office Hours
Please call or email your local GEICO Office to learn more as office hours may vary.
Monday: 9:00 AM - 6:00 PM
Tuesday: 9:00 AM - 6:00 PM
Wednesday: 9:00 AM - 6:00 PM
Thursday: 9:00 AM - 6:00 PM
Friday: 9:00 AM - 6:00 PM
Saturday: 10:00 AM - 2:00 PM
Sunday: Closed