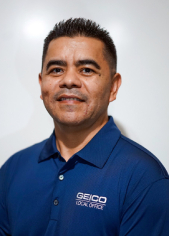 Meet Joel Corona, your local GEICO insurance agent.
Hi! My name is Joel Corona, and with over 20 years of experience I look forward to helping the East Bay community save on their insurance. I have staff fluent in Cantonese and Filipino available to assist you if one of those is your preferred language.
Learn about Joel Corona, your GEICO insurance agent in Emeryville, California.
I've often been referred to as a "people person." A long-term career opportunity became available where I could help people with their insurance needs. I took my state test, applied, and never turned back. My passion lies in building my customers' trust and educating them on coverage. Ultimately, I strive to provide them with savings, service, and peace of mind that their insurance needs will be handled with care.
In my free time I enjoy coaching youth baseball, running, traveling, and spending time with my family. I love everything about baseball and always try to catch a game.
Joel Corona understands more than just insurance in Emeryville.
My team is set on helping our policyholders save money on car insurance, but our expertise doesn't stop there. Do you work at the Oakland Federal building, courthouse, or another federal office? Are you stationed on Alameda Island? We may be able to offer you a special Military discount. Do you spend time on the San Francisco Bay? Ask us how we can help insure your boat or personal watercraft! If you camp around the Kirby Cove Campground, let us help you insure your RV! We can also help bundle your auto coverage with homeowners insurance through the GEICO Insurance Agency - so remember to ask us about GEICO's Multi-Policy Discount.
Joel Corona and his team are involved in the Emeryville community.
My team and I look forward to watching the Bay area sports teams play, including the Oakland A's, San Francisco Giants, and the Golden State Warriors. We also look forward to attending the Art & Soul Festival, Día de los Muertos celebration, Running Festival, Downtown Alameda Spring Festival, and Bay to Breakers. Personally, I work with the Oakland/Alameda and Hispanic/Latino Chambers of Commerce.
Joel Corona is here for you in Alameda, California!
Office Hours
Please call or email your local GEICO Office to learn more as office hours may vary.
Monday: 10:00 AM - 7:00 PM
Tuesday: 10:00 AM - 7:00 PM
Wednesday: 10:00 AM - 7:00 PM
Thursday: 10:00 AM - 7:00 PM
Friday: 10:00 AM - 7:00 PM
Saturday: 10:00 AM - 6:00 PM
Sunday: Closed