Chat: More than just convenience.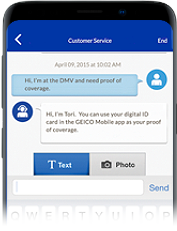 Let your fingers do the talking with GEICO's Chat. Day or night, our trained agents are able to answer your questions on your time.
With Chat you aren't tied to the conversation as you are with a phone call. Start the conversation when you want and come back when you can. What if you started the conversation on your tablet but don't have it with you now? We've thought of that too. You can access Chat from any device that has the GEICO Mobile app. We'll even send you a push notification (through the app) when we respond to your question.
Getting the conversation started:
24/7 service without speaking a word
Direct contact to trained agents
Seamless hand off from any device with the GEICO Mobile app
Questions answered on your time
Push notifications letting you know when we've responded (through the GEICO Mobile app)
Who can use Chat?
Chat is available to policyholders on mobile web and through the GEICO Mobile app on iPhone, iPad and Android. Just visit one of the store links below to download the GEICO Mobile app.
Download the GEICO Mobile app and see why we're #1!*