Help The Guinea Pigs Get Away!
There are easier ways to save money than having your guinea pigs row a boat for electricity. At least the guinea pigs think so! They've conspired to escape from their owner and live the good life. They're headed to the beach but they must travel through the sewer to get there. Help them navigate the murky waters filled with obstacles that threaten their speedy escape — alligators, bones, tires, and more. Yuck!
Accomplish goals
Collect bonus items
Elude the owner (and the 'gators too)
Let's go guinea pigs; row that boat!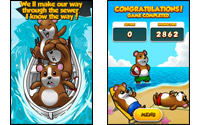 Scan to Download:
iPhone, iTunes, and App Store are trademarks of Apple Inc.
Android is a trademark of Google Inc.