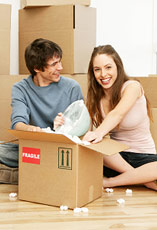 If one of the top three things on your to-do list is 'find more boxes', you're probably well into the home buying or moving process. If you're just getting started, or deciding between buying and renting, check out the 'Top Things to Know."

Even before you've crawled out from under the sea of packing peanuts, you need to protect your investment. Here's how…
Why do I need homeowners insurance?
Aside from the requirement to carry it by most mortgage lenders, it will help you sleep easy in your new home. Fire, theft and accidents can happen to anyone. Homeowners insurance will help protect you from these threats. Ready to get started?
Protect your stuff with renters insurance.
Maybe owning a home isn't right for you. But you still own a lot of cool stuff. Furniture, TVs, computers, game consoles, clothing, and much more. Even though your apartment complex will cover the building itself, you're still responsible for what's inside. But there's good news. Renters insurance is inexpensive. Come see how affordable it can be.
Security Notice
Please note that when you click on some of the links on this page, you will be taken to sites not owned by GEICO. Any information that you provide directly to them is subject to the privacy policies posted on their websites.