By Dawn McCaslin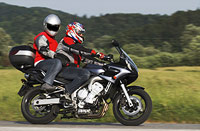 Those of us who own motorcycles know there is little that compares with the freedom of the open road. While most people celebrate a perfect sunny day by simply opening a few windows, we get on our bikes and ride.
Here's a list of resources for those who appreciate the Powersports lifestyle:
Whether you prefer to ride solo or with a group, MyGreatRides.com is a great (and growing) resource, "where the bikes rule and the riders reign". Once registered, you can share your stories, places to ride, and meet up with others in your area.
Women riders, you're not alone! There are several websites dedicated to the female rider like WomenRidersNow.com.
Daytona Bike Week just ended, but start saving your money now and plan on heading out next year to join the madness. They offer a free newsletter with regular updates on Daytona Bike Week and Biketoberfest. Also plan for events like Sturgis, Myrtle Beach and Laconia Bike Weeks.
Interested in participating in a charitable event? There are countless organizations that offer great opportunities, such as Bikers Against Drunk Driving (B.A.D.D.), Bikers Against Child Abuse (B.A.C.A.), Bikers Against Diabetes (B.A.D.) or the annual Bikers for Tykes & Troops Rally.
Here are a few tips to help keep you and your Powersport vehicle protected:
Are you an ATV or RV owner? Before hitting the road, make sure that your investment is protected by having your vehicle properly insured. If you don't already have a policy with us for your ATV, you can get a quote at geico.com today! RV owners can give us a call at

1-800-909-4246

and our licensed agents will be happy to assist you.
If your bike has been holed up for the winter, consider a thorough spring tune-up. Be sure to carefully inspect the tires and wheels, levers and hoses, lights, fluids, chassis and stand. Don't forget to make sure your sticker is current.
Get creative and increase your visibility with reflective tape. A simple strip or plus-sign on the back of your helmet can do wonders. You can personalize it easily with a stencil and a utility knife by creating words, symbols, animals or one-of-a-kind designs.
For cold mornings and evenings, invest in glove and foot warmers (found in most sporting stores). Foot warmers are designed to slide under your toes and keep your feet warm for approximately 6-8 hours.
With spring arriving in just a few short weeks, riders are gearing up to hit the road beneath the wide open skies. If you have suggestions for great places to ride, email us and you may see your submission included in a future issue of the GEICO Connection.
Safety first!