Green is our favorite color here at GEICO. Why, you ask?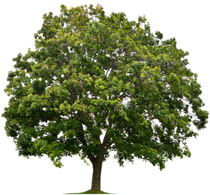 It's the color of the money we save you.
It's a gorgeous gecko shade.
It represents our strong commitment to the environment.
Let's talk about that last item, shall we? One of the ways we've tried to be "greener" is by providing plenty of paperless services. When you enroll in our paperless services, you can choose:
Paperless Billing
Paperless Policy
Automatic Payments
Not only does it help you reduce the amount of paper you throw away, it's more convenient. Win – win, right?

But wait . . . there's more!
Introducing the Gecko Tree
Now, when you enroll in any of our paperless services, you'll receive a virtual Gecko Tree. (If you've already enrolled, your Gecko Tree has been planted!) As you enroll in more paperless services—and save more real trees—you can watch your little sapling grow into a mighty virtual oak!

To claim your Gecko Tree, just register for an account on geico.com . It's fast, it's free, it's convenient, and you don't even have to buy mulch! What are you waiting for?

Learn more about GEICO's green initiatives, including wildlife conservation and environmental safety efforts. Do you have a green idea? Tell us about it.