Download, Print, Or Order Your Federal Leave Record
For over a half century, GEICO has provided printed copies of leave records to federal employees. Leave record forms are now available in a variety of formats! You can download the app, print out the forms, or you can still order pre-printed copies on-line! In an effort to achieve a greener environment, GEICO encourages you to use the mobile app or download the PDF (and print only the copies you need).
---
Download The Federal Leave Record App For Your Mobile Device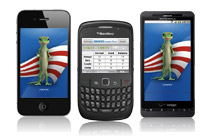 Download now for: iPhone, Blackberry®, or Android
Track your annual and sick leave right on your hand held device! Just enter your beginning balances of sick and annual leave and your accrual rates. The app automatically calculates your available leave. Now you can access this information instantly, from anywhere.

---
Download And Print the 2014 Federal Leave Card
* If you are having trouble reviewing your documents, please download the latest version of Acrobat® Reader® software. Adobe, the Adobe logo and Acrobat are either registered trademarks or trademarks of Adobe Systems Incorporated in the United States and/or other countries.
---
Order Pre-Printed Federal Leave Cards