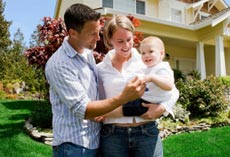 First of all, congratulations! Now, even before you start telling everyone, "You gotta see the baby!" you should be prepared for how your life and financial situation will change. GEICO is here to help and we'd love to be part of your family.
Life Insurance
If the new baby is keeping you up, reading about life insurance on the internet will help you get back to sleep pretty fast. But our guide to understanding life insurance is a quick read for new parents. Help protect your family's future – purchase a life insurance policy or update your current limits. If you still have questions or are ready to get a quote, call us at 1-888-532-5433 and speak to an insurance representative. You can also get a quote online.
Booster Seat Safety
You want to keep your children safe when you take them out into the world, and that includes riding in the car. The Insurance Institute for Highway Safety (IIHS) recently performed an extensive study of common booster seats. Read through their booster seat advice and see the ratings.
Additional Resources
Security Notice
Please note that when you click on some of the links on this page, you will be taken to sites not owned by GEICO. Any information that you provide directly to them is subject to the privacy policies posted on their websites.