6 main
insurance coverages
1

Bodily Injury Liability Coverage

Pays for damages to others for injury or death resulting from an accident in which you're at fault. May provide legal defense.
2

Collision coverage

Pays for damage to your bike in the event of an accident.
3

Comprehensive coverage

Insurance for your own motorcycle damage, including theft, resulting from an occurrence other than collision with another object, animal or vehicle.
4

Property Damage Coverage

Pays for damage to other people's property resulting from an at-fault accident.
5

Uninsured Motorist Coverage

May pay for your injuries or property damage caused by an uninsured motorist or, in some instances, an unidentified driver.
6

Personal Injury Protection

May pay for you and your passengers' medical treatment, lost wages or other accident-related expenses, no matter who caused the accident.

*Subject to the terms, limits and conditions of your policy contract.
Deductible
The portion of a claim that you pay out of pocket. Budgeting tip: Opting for a higher deductible will lower your insurance premiums, so choose wisely.
Motorcycle Specialty Coverages

---
Accessories Coverage
This coverage protects custom parts or equipment other than those installed by the original manufacturer. These customizations are permanently installed/attached or they alter the appearance or performance of the vehicle. This coverage applies if you carry comprehensive and/or collision insurance.
Examples of accessories include, but are not limited to:
Non-stock sidecar

Trike conversion kits

Custom paint (varies by state)

Equipment, devices, accessories, enhancements and changes

Electronic equipment, antennas and other devices used exclusively to send or receive audio, visual or data signals, or to play back recorded media

A trailer that is attached to or detached from a covered vehicle
GEICO Motorcycle has great motorcycle accessories coverage, so not only does GEICO insure the bike, we insure the special personalizations that make it yours. And that's exactly why our knowledgeable, enthusiastic motorcycle agents are here to help you get a policy customized perfectly to suit you—just like your ride. Give us a call to see which of your accessories are covered.
Helmet Coverage
A good helmet can be expensive—especially if it has electronic components. That's why GEICO can even insure you helmet. Check your policy or call to learn more about Helmet Coverage.
Emergency Roadside Service
Getting stranded—we've all been there. But you ride with GEICO Motorcycle, so this affordable extra coverage is available for purchase with your policy. Whether you run over a nail or ride a little too long between gas stations, we're here to help, complete with specialized flatbed trucks for towing.
Hover overTap on a circle!
Helmet
Though states vary with helmet laws, do yourself a solid and take care of your melon.
Jacket
A good riding jacket can range from basic leather, to textile, to a high-quality piece including protective body armor.
Pants
Keep in mind that jeans won't be able to protect your legs. Armored pants are a good idea.
Boots
A heavy, over-the-ankle pair of boots with oil-resistant, non-slip soles and ankle support should be considered a minimum.
Gloves
Ensure that they are not only durable, but comfortable and allow a firm grip on the controls.
Eye Protection
Buy and wear full coverage, impact-resistant eye protection whenever you ride.
Ear Plugs
Wind noise on a motorcycle can become extreme at highway speeds, and your hearing can suffer from repeated exposure to loud sounds.
Tip
Buy gear true-to-size. Never size up in order to layer—the space to do so is already built in.
Choosing the
right helmet
A motorcycle helmet is the most important piece of safety equipment a new rider can buy.
When selecting a helmet, make sure it meets minimum safety standards by looking for a DOT sticker or a Snell sticker, which represent the seals of approval from the United States Department of Transportation and the Snell Memorial Foundation, respectively.
Helmets come in a variety of styles to accommodate various head shapes and sizes. Your local motorcycle dealer would be more than happy to help you with the right fit.
Tip
Helmets typically have a five-year life. After that, they may begin to degrade, impacting safety. This also applies if a helmet's been dropped or involved in an accident. Motorcycle helmets are designed for a single, hard impact. Though the outer shell may remain in-tact, that doesn't go for the inner layers.
6 Helpful Things
to have for your ride
Tools
Available toolkits from simple to advanced are excellent for emergency repairs.
Motorcycle Luggage or Backpack
Saddlebags are the quintessential motorcycle luggage items, but you need not stop there. Opt for soft or hard luggage depending on your preferences and/or intended purposes.
Crash Protection
Engine guards are worth your peace of mind. Replacing crash protection is much cheaper than replacing plastic and hard parts.
Visibility
You can get reflective license plate bolts or use reflective tape on certain surfaces. LED lights are also a good idea—not only for customized style and visibility, but they also last way longer.
Security System
Keep thieves away with a secure padlock, special GPS tracking or a sophisticated alarm.
First Aid Kit
This will always come in handy. Change out items like bandages and antibacterial creams every year.
Cycle Safety and Care
Your Pre-Ride Inspection

---
Before each day's ride, perform a visual and operational check of the motorcycle and its operating systems. The Motorcycle Safety Foundation actually has a catchy name for this: T-CLOCS (Okay … "catchy" might be a little bit generous).
Hover overTap on a square!
Tires and Wheels
There's a reason why they're at the top of the list. Make it a habit to inspect your tires before every ride and check your tire pressure and tread levels weekly. Keep an eye out for any foreign materials.
Controls
Do the throttle and clutch cables operate smoothly? Check all levers and pedals. Be on the lookout for any fraying wires.
Lights and Electric
Check high and low beams, turn signals, running and brake lights. And don't forget your horn!
Oil
Make sure your fluids are fresh and full. Whether it has a sight glass or dipstick, look to see if everything's clear and at a proper level. Check for leaks, too.
Chassis
Check your suspension. Make sure your chain has the correct tension and lubrication.
Stands
They should be free of cracks and bends. Check to make sure their springs are in place and secure to the bike.
4 Important Cycle Safety Tips

---
Be aware of your surroundings.
A big cycle rule of thumb is to ride like you're invisible—ride more defensively than you drive.
Be noticed.
Ride with your high beam on during the day, and wear brightly colored-gear.
Take a Motorcycle Safety Foundation (MSF) course.
This incredibly thorough course is loaded with useful knowledge and tips for safe and smart riding. It's is also required in many states. You could even get a special discount for taking it.
Know local motorcycle laws.
From helmets and eye protection to mirrors, be sure you're aware and prepared for what is required where you'll be riding. Take a look at motorcycle laws by state.
4 Steps to Properly

Winterize Your Motorcycle

---
Here are ways to avoid garage rot and have your bike ready whenever the weather is.
Wash and inspect
Take the time to thoroughly wash and dry your motorcycle. A great way to dry your ride is going for a quick ride or use compressed air to blow the water off. Get your throttle clutch and brake cables inspected and lubricated to prevent premature wear or seizing.
Check and maintain fluid
Change and top off all essential fluids. Run the engine for a few minutes after to work the entire new blend throughout its intended route. Some bikes need fuel drained from the carburetor for winter. Do make sure the gas tank is filled if parked for extended periods during winter and add some fuel stabilizer, as well.
Tend to your battery
You can remove it from the bike and charge it monthly, or leave it in place and attach a trickle charger. If you do find yourself with a dead battery, do not jump start it using a car. Motorcycle batteries are fragile and this will significantly cut into its life.
Keep it under cover
Your bike should be kept indoors in a dry, safe place.
GEICO Motorcycle is here with the protection you need—even

in the offseason.

---
Even though you don't anticipate a winter cruise, things could still happen. We know it's not so fun to think about, but there is always a possible event of fire, flooding, vandalism and even theft. Who knows—maybe you accidentally ding your bike while backing into the garage with your car.

On a more positive note, when you keep your bike insured, you keep your discounts. Not to mention—we all know how unpredictable the weather is. Feel confident knowing your bike is waiting for you safe and sound.
Smart Ways
to Save Big
Since you ride with GEICO Motorcycle, you could get up to a 10% discount
for the following:
Insuring more than one motorcycle with us.
Having completed a Motorcycle Safety Foundation or Military Safety Course.
Keeping your coverage active for a full year.
When you join your GEICO car insurance policy with a motorcycle policy, you could also get a Multi-Policy Discount on your car insurance.
Pay

Painlessly
You've got options. Pick the plan that works for you at: geico.com/payments
Set up automatic payments
Stop worrying about your bills. Sign up with Electronic Funds Transfer (EFT) or your credit or debit card, and you'll never be late again.
Spread your payments out...
Choose the number of installments that work for your life —and budget.
...or pay in full
Pay the full premium by the policy effective date and you're done! (And you'll avoid installment charges.)
Go green
Sign up for paperless billing and do it all online. eBill and ePolicy are great ways to keep track of your payments and policy documents.
Download our app
Pay your bill anywhere, anytime, and sign up for text alerts when payments are due. Text* MOBILE to 43426 to download now.
*Message and data rates may apply.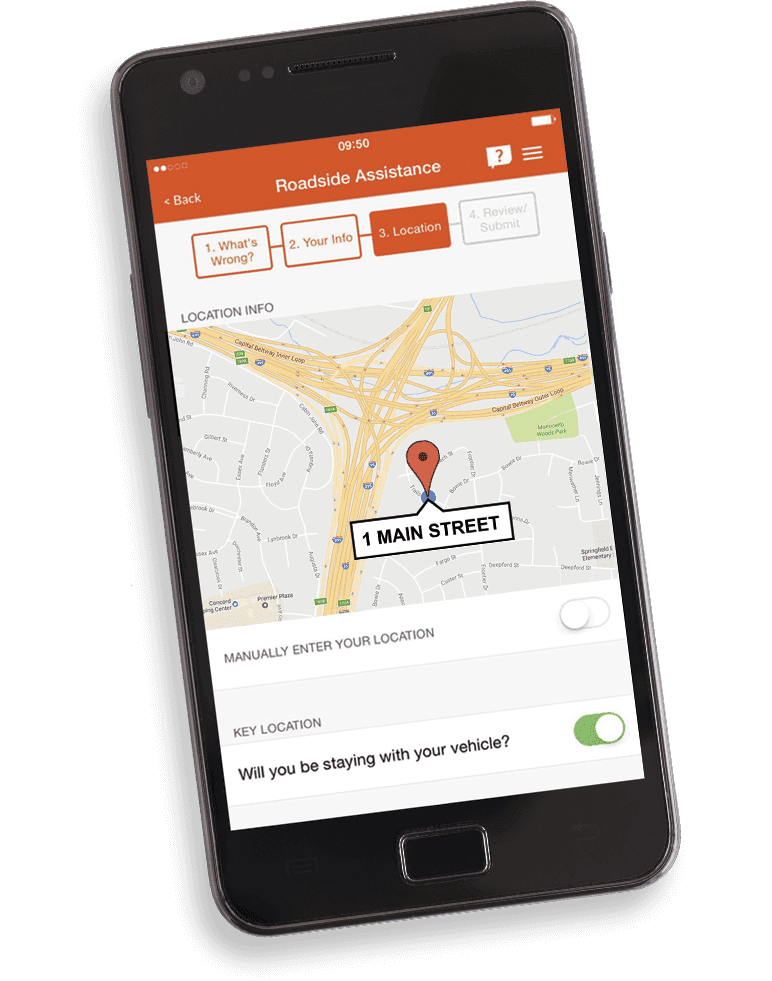 Make it easy:

Download the

app

Proof of insurance
is available on your phone or tablet in the form of digital ID cards.

Manage your policy
by paying a bill, adding a driver or vehicle, or changing coverages.

Find gas
locates the lowest real-time prices of fuel nearby—and gives you directions there.

Virtual assistant
lets you chat 24/7. Dusk or dawn, we can answer your questions on your time.
Roadside Assistance
Flat tire? Ran out of gas? Our Emergency Roadside Service (ERS) can help. Log in to your GEICO Auto Policy or call (800) 424-3426 to get a quote or add it to your policy.
We see
More Savings
in your future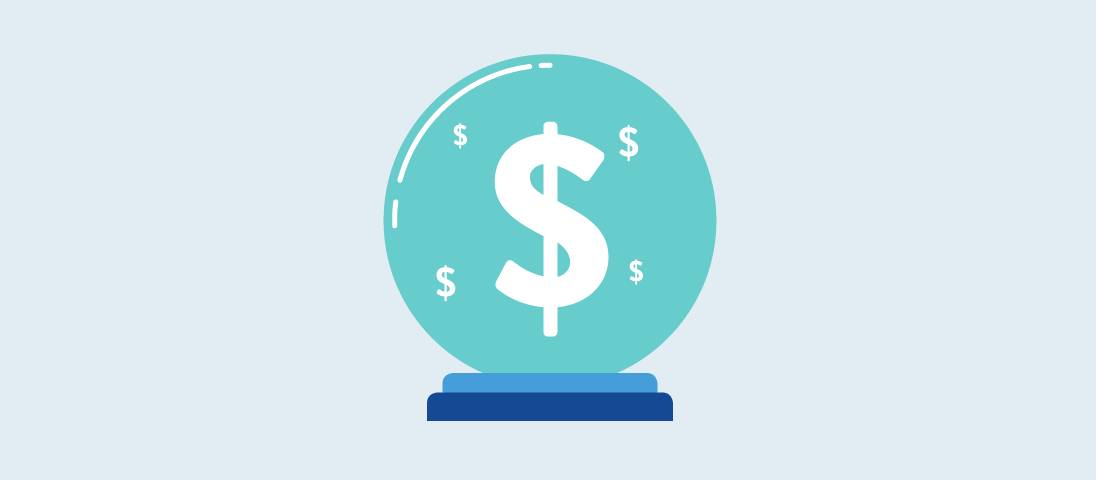 Whether you're getting married, buying a home or adopting a pet, GEICO's here to
grow with you.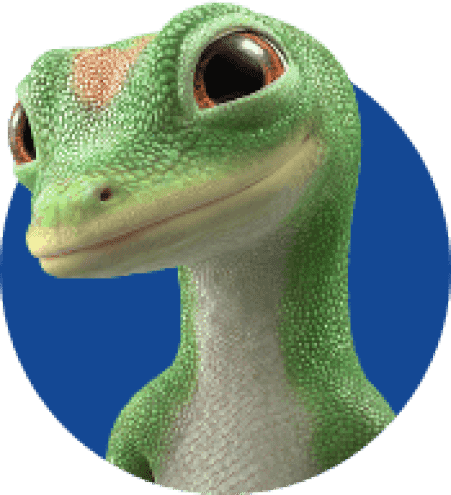 Some discounts, coverages, payment plans and features are not available in all states, in all GEICO companies, or in all situations. Homeowners, Renters, Condo, Pet, Travel, Flood, Term Life, Jewelry, and business operations and property coverages are written through non-affiliated insurance companies and are secured through the GEICO Insurance Agency, Inc. Boat and PWC coverages are underwritten by GEICO Marine Insurance Company. GEICO Auto policyholders could be eligible for a premium discount on their GEICO Marine Insurance policy. Motorcycle and ATV coverages are underwritten by GEICO Indemnity Company. GEICO Identity Protection is provided by Iris Powered by Generali, and is secured through the GEICO Insurance Agency, Inc. Identity protection services provided by EA USA are not an insurance policy and do not provide any insurance benefits to Covered Members. The GEICO Personal Umbrella Policy is provided by Government Employees Insurance Company and is available to qualified Government Employees Insurance Company and GEICO General Insurance Company policyholders and other eligible persons, except in Mass. Recurring Card Payments charged to a credit or debit card and Electronic Funds Transfer payments made under a recurring payment plan are subject to installment fee charges. Please refer to your premium bill for installment fee details and amounts. Commercial auto coverage is underwritten by Government Employees Insurance Company. In some cases commercial auto coverage is provided through GEICO Insurance Agency, Inc., either under an arrangement with National Indemnity Company (NICO), a Berkshire Hathaway affiliate, or with non-affiliated insurers. Business operations and property coverages are written through non-affiliated insurers and are secured through GEICO Insurance Agency, Inc. If you do not wish to receive future marketing mailings from GEICO, please complete the form available at http://optout.geico.com/marketing, or send your full name and mailing address, including ZIP code, to Mail Preference, GEICO Marketing, One GEICO Plaza, Floor 4T, Washington, D.C. 20076. GEICO is a registered service mark of Government Employees Insurance Company, Washington, D.C. 20076; a Berkshire Hathaway Inc. subsidiary. GEICO Gecko image © 1999-2018. © 2018 GEICO