Car Insurance
Car insurance made for you. Service you can rely on.
---
Current policyholder?
Log in to your auto policy
---
Get your free car insurance quote.
Protect what matters to you with car insurance designed for you. Let's work together to make sure you have the right car insurance coverage you need for a low price.
Most car insurance companies provide fast and free car insurance quotes. We all want to see cheap car insurance rates, but service is what matters when you're stuck on the side of the road.
GEICO's been working hard to provide best-in-class customer service for over 75 years, while also providing competitive auto insurance rates. See what we have to offer with a free car insurance quote.
Why You Need Car Insurance
No matter which auto insurance quote you go with, the most important thing is your car insurance provides the coverage you need. We want you to be confident that you're choosing the right coverage.
Personalized Coverage Calculator
You may have questions about which car insurance policy is best for you, such as:
How much bodily injury coverage should I carry?
How much property damage coverage should I have?
How much should my deductible be?
Our coverage calculator can help answer these questions and more.
How to get a car insurance quote:
Gather these items to make the quote process faster:
Valid driver's license
Vehicle Identification Number (VIN)
Address where vehicle will be stored
Review our state car insurance guides. Every state has different laws and insurance requirements.
Your Car Insurance Discounts are Waiting
Save money on car insurance so you can focus on what matters to you. You could qualify for a variety of discounts and premium reductions just by being you. From student discounts to good driver discounts (five-year accident-free), see how much you could save.
Service for When You Need Us
Our licensed insurance agents are available 24/7/365 so we're here when you need us. You can access your car insurance policy at any time by downloading the GEICO Mobile app.
97% Customer Satisfaction*
You can't please everyone, but it doesn't hurt to try. We're committed to:
Taking your feedback seriously
Working hard every day to improve insurance for you
We work hard to make insurance easier by making things simple in our app and online like:
Paying your auto insurance bill
Checking your balance
Getting ID cards
Filing a claim, and more
Need help? Use the GEICO Mobile app to access our virtual assistant, chat with an agent, or call us anytime.
GEICO insurance agents are standing by with a local presence:
Local agents providing outstanding customer service to answer questions about car insurance and more
A commitment to each community we serve
Auto Insurance Reviews from Real Customers
Anytime Access to Licensed Insurance Agents.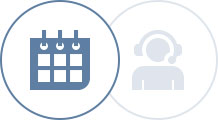 24/7/365
Anytime access to a licensed agent
Convenient Claims and Repairs
Accidents can be stressful. We work to make it easy for you to:
Report an auto claim anytime online, with our insurance app, or over the phone
Our Auto Repair Xpress® program is fast, convenient, with guaranteed repairs as long as you own the vehicle
Add Emergency Road Service coverage to your car insurance policy to help with:
Jump starts
Labor to change a flat tire
Towing (non-accident related), and more