Protect your vacation with travel insurance.
For your flight:
For your entire trip:
Manage Your Travel And Flight Insurance
Need a travel insurance quote?
Protect all your trips with an affordable travel insurance or flight insurance policy.
Whether you're flying home for the holidays or planning the vacation of a lifetime, travel insurance can give you peace of mind during your trip. The GEICO Insurance Agency has teamed up with Berkshire Hathaway Travel Protection (BHTP) to offer travel insurance that provides clickable claims, express payments, and 24/7/365 worldwide travel assistance. Get a travel insurance quote or flight insurance quote today for your next adventure.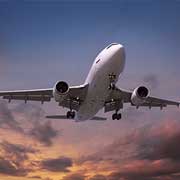 ExactCare®
When planning a trip, the last thing you want to think about is everything that could go wrong. The ExactCare product line covers risks from illness and injury to losing your luggage or passport or even being selected for jury duty, so you can get back to planning the trip of a lifetime.
All ExactCare products offer:
last-minute cancellation coverage
worldwide travel assistance
emergency medical and dental coverage
24/7/365 worldwide emergency travel assistance
quick claim processing and rapid payments
Get an online ExactCare quote for your next trip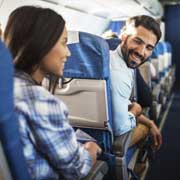 AirCare® Flight Insurance
Leaving on a jet plane? Let AirCare help you get there. Starting at just $26 for a direct, round-trip flight, AirCare can help give you peace of mind when common flight mishaps strike.
AirCare flight insurance will:
help replace lost or delayed luggage
pay you for canceled flights, or extended delays at the airport or on the tarmac
compensate you for missed connections
provide you with 24/7/365 worldwide emergency travel assistance
Get an online AirCare quote and fly with confidence
Travel coverage at your fingertips
Available when you need us, wherever you need us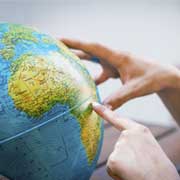 Worldwide service and claims
When you're on the go, you need a travel insurance policy that goes with you. Berkshire Hathaway Travel Protection (BHTP) has made it easier than ever to manage your travel insurance in a manner that's easiest for you. You can:
Travel Insurance: Get the answers you're looking for
If you choose to get a rate quote or service your policy online, you will be taken to the Berkshire Hathaway Travel Protection website which is owned by Berkshire Hathaway Specialty Insurance Company, not GEICO. Any information that you provide directly to Berkshire Hathaway Specialty Insurance Company on its website is subject to the privacy policy posted on their website, which you should read before proceeding. GEICO assumes no responsibility for their privacy practices or your use of their website.

ExactCare is provided through Berkshire Hathaway Global Insurance Services, LLC, and AirCare is written through other Berkshire Hathaway affiliates. AirCare is secured through the GEICO Insurance Agency, Inc. and information regarding ExactCare is available.

Benefits may vary by jurisdiction. Please contact a representative to confirm availability.