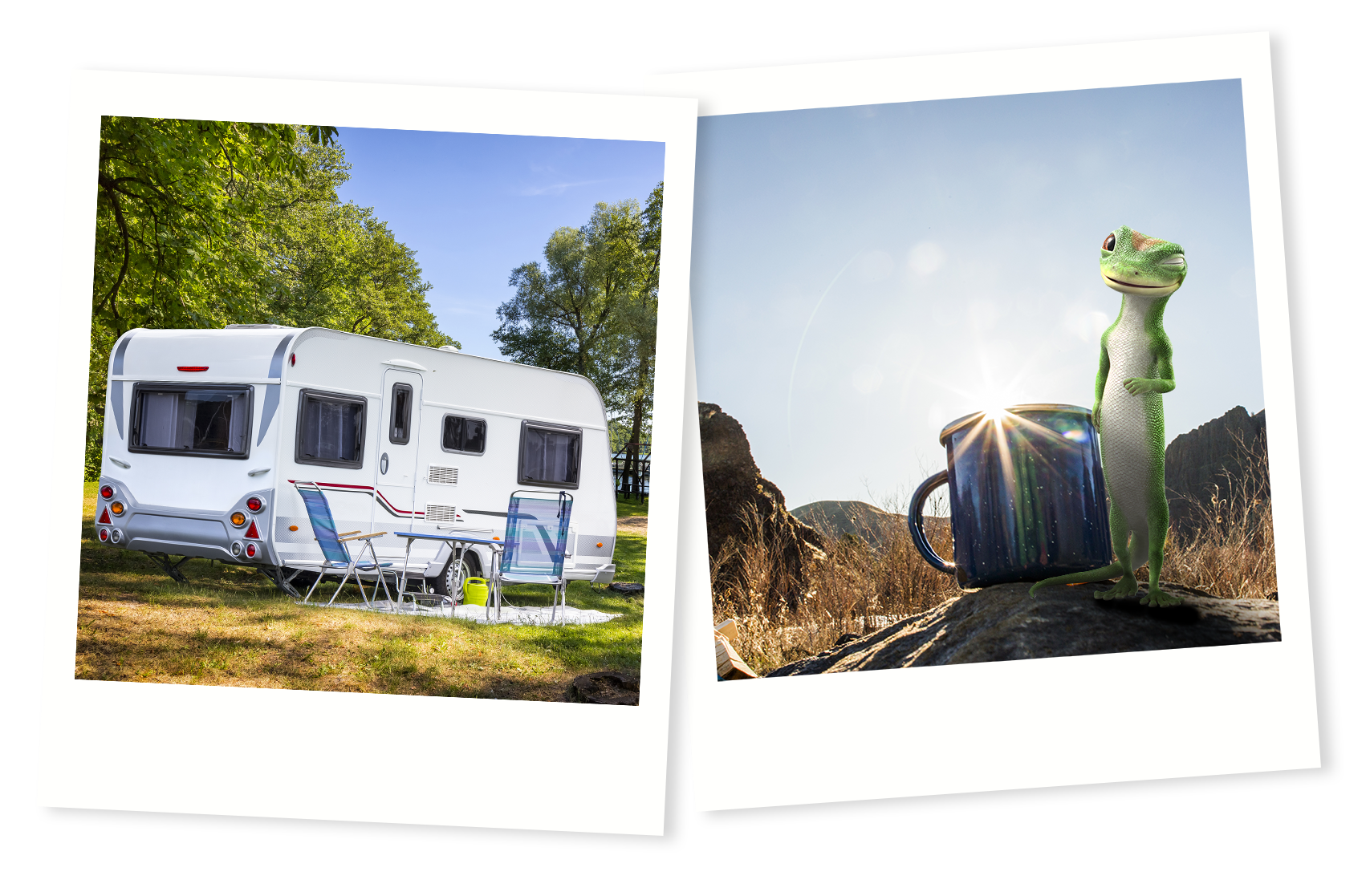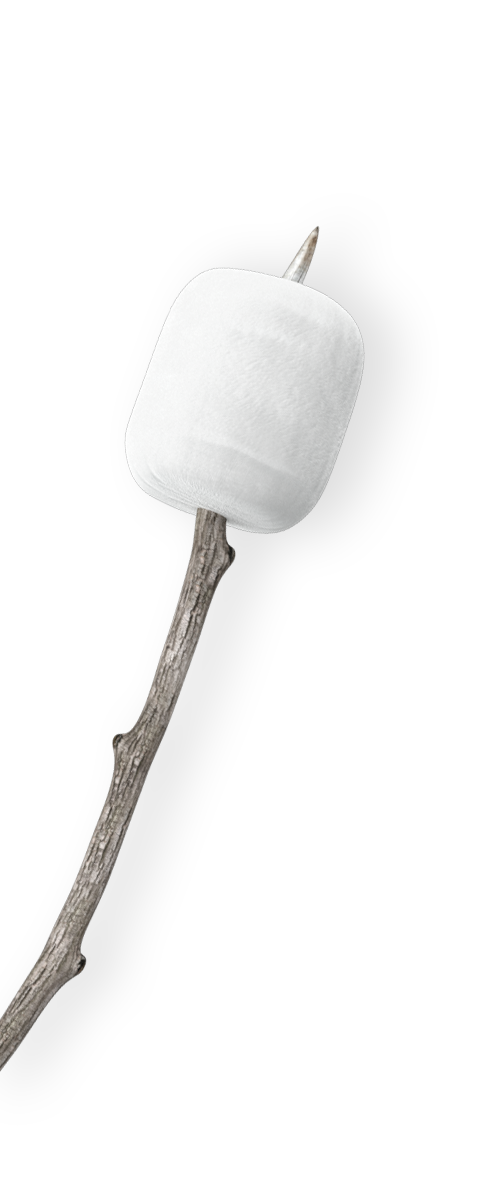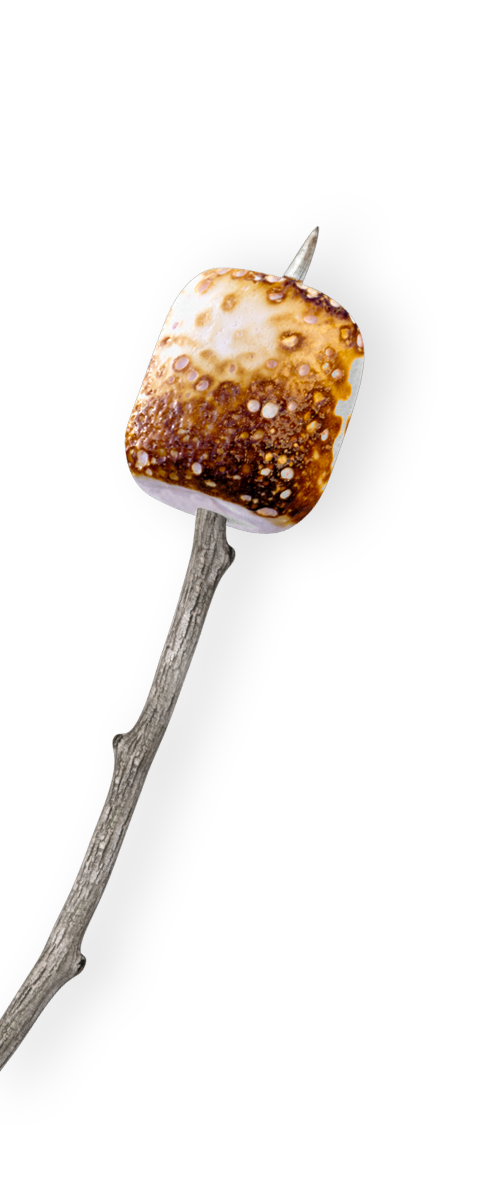 9 helpful
insurance terms
1

Bodily Injury Liability Coverage

Pays for damages to others for injury or death resulting from an accident in which you're at fault. May provide legal defense.
2

Collision coverage

Pays for damage to your RV when it hits or is hit by another vehicle or object, or if the car overturns. Subject to the terms, limits, and conditions of your policy contract.
3

Comprehensive physical damage coverage

Pays for damage to your RV that is not the result of a car accident. For example, theft, vandalism, flood, fire, animals, or other covered perils.
4

Deductible

The portion of a claim that you pay out of pocket. Budgeting tip: Opting for a higher deductible will lower your insurance premiums, so choose wisely.
5

Emergency Roadside Service (ERS)

If you have a flat tire or a dead battery, need to get towed, or get locked out of your RV, we're there for you. It starts at only $14 per year per vehicle.
6

Personal Injury Protection

May pay for you and your passengers' medical treatment, lost wages, or other accident-related expenses, no matter who caused the accident.

7

Property Damage Liability Coverage

Pays for damage to someone else's vehicle or property resulting from an accident for which you are at fault. May provide legal defense.

8

Rental Reimbursement

Or "Transportation Expense," this optional coverage helps pay rental car costs when your insured vehicle is disabled owing to a covered accident or loss.

9

Uninsured Motorist Coverage

May pay for your injuries or property damage caused by an uninsured motorist or, in some states, an unidentified driver.

Enhanced Motorized and Towable RV Coverage

---
Total Loss Replacement
Offers you an RV replacement or actual cash value, based on the age of the vehicle. (Coverage availability may vary by state and vehicle value.*) This option is only offered within the first 30 days of a new policy or from when it was added to an existing policy on a recreational vehicle that meet the following qualifications:
The model year is plus or minus one year of the current model year; and

There are no active claims; and

It has a NADA Average Retail Value of less than $250,000.
*Coverage not available to every customer in every state
Replacement Cost of Personal Effects
Pays for the replacement of your personal items in your RV that resulted from a covered loss.
Vacation Liability
Pays for Bodily Injury and Property Damage losses that occur at your vacation site.
Emergency Expense Coverage
Pays your expenses for hotels and transportation due to a covered loss.
Special Windshield Deductible
Either completely pays for an RV windshield repair, or pays all but a $50 cost to you for your RV windshield to be replaced.
State-Specific Guidelines/Exceptions:
CT, MN and NY offer both a $50 and a non-deductible option.

AZ only offers a non-deductible option.

In FL, KY and SC, the Special Windshield Deductible is not available.
Recreational Vehicle Medical Payments Coverage
Pays the cost for necessary medical treatment that is caused in an RV accident, regardless of fault.
Travel Trailer Insurance
Covers towable RVs and travel trailers, including conventional, fifth wheel, and expandable travel trailers, as well as folding and truck campers.
*Enhanced RV coverage is currently available in all states except: HI, MA, MI, and NC.

All of the above definitions are meant as general policy descriptions only. They're subject to the terms, limits and conditions of your policy contract, as well as the state in which you live.
Flat Tire
Fix
A flat tire doesn't need to derail your RV fun. GEICO's Emergency Roadside Assistance can help with a flat tire, but what if your adventure takes you off‑grid?
• If you don't have cell service
• If you're on a private road or campsite and roadside assistance can't reach you
• If you're just in a hurry and you don't want to wait
Before you begin,
make sure that you have:
Spare Tire
Lug Wrench
Socket

Tire Pressure Gauge
Portable Air Compressor with Air Chuck
Chocks

Ramp
Wrench
Lubrication
| | |
| --- | --- |
| 1 | Park on a flat, hard surface away from traffic. |
| | |
| --- | --- |
| 2 | Loosen the lug nuts half a turn with a tire iron, but don't take any of them off yet! |
| | |
| --- | --- |
| 3 | On the side with the flat, drive your good tire onto the ramp. Make sure the tire to be changed can spin freely. |
| | |
| --- | --- |
| 4 | Chock your tires on the side you won't be working on, then set the emergency brake. |
| | |
| --- | --- |
| 5 | Remove all the lug nuts holding the flat in place, then remove the wheel with the flat. |
| | |
| --- | --- |
| 6 | Put your spare in place, then spray some lubricant on the studs. |
| | |
| --- | --- |
| 7 | Tighten the lug nuts most of the way, using a star‑shaped pattern to make sure they tighten evenly. |
| | |
| --- | --- |
| 8 | Reinstall your flat where your spare tire was, so you'll have it to fix later. |
| | |
| --- | --- |
| 9 | Unchock the opposite side, release the parking brake, and drive off the ramp. |
| | |
| --- | --- |
| 10 | Tighten the lug nuts the rest of the way. |
| | |
| --- | --- |
| 11 | Check the air pressure in the spare and your other tires, adding more air as needed. |
A flat tire is never fun. But keep these tips handy, and you'll be back on the road in no time.
12 Essential Things
to keep in your RV
Hover overTap on a circle!
Brass Y‑Adapter for Water Hookup
You can use kitty litter to get your RV out of the

snow or mud!

Clear loose snow or mud around your tires, then sprinkle kitty litter around your tires for traction.
Check for injuries and call 911 if necessary
You should never move an injured person unless he or she is in immediate danger.
Take pictures to document the scene
Only take pictures if you can do so safely. Include all vehicle damage and the surroundings, and upload pictures to geico.com after you report the loss.
Exchange and record info
Only disclose your name, your insurance company, your policy number, and GEICO's phone number to the other parties (other than the police). Make sure to collect:
• Date and Time
• Location
• Police Report Number
• Other Driver's License Plate Number, Insurance, and Contact Info
Get your vehicle towed
If your RV isn't drivable, call GEICO to report the loss. GEICO will help you get it towed quickly.
Let GEICO know
Our helpful agents are available 24/7 to help guide you through the process. Report a claim by calling 866‑351‑0266, on geico.com, or via the GEICO Mobile App.
6 tips
for camping in national parks
powered by
Choose a park with wide, navigable roads
Reserve your campsite well in advance
(and know the regulations)
Stay up‑to‑date on road closures
Stay on budget
Be prepared to dry camp
(without full hookups)
Keep your site clean and store food properly
How to
Winterize your RV
Prepare the Water System
Gather materials.
Grab some nontoxic antifreeze and either a wrench or pliers so you can open the drains and petcocks on your water tanks.
Remove excess water.
Drain your fresh water tank and empty the gray and black water tanks, too.
Prep the hot water heater.
Turn off the breaker to the hot water tank. Bypass the water heater using the valve (or valves) on it so you don't needlessly fill your water heater with antifreeze.
Prep the fresh water pump.
Most newer RVs are equipped with a kit so you don't have to fill the tank with antifreeze. If yours doesn't, you can put a suction line right into a bottle of antifreeze and pump it through the system. You could also install a pump winterization kit.
Run antifreeze through the system.
Turn on both the hot and cold faucets until antifreeze comes through, then turn them off. Run enough antifreeze to push any remaining water out of the sink traps as well. Then press the spring in the center of the city water inlet until antifreeze comes through.
Relieve pressure.
Reopen one set of faucets (hot and cold) to relieve pressure on the water lines and allow for expansion if a little bit of water remains.
Keep Out Critters
Remove all food.
Repel rodents.
Finish Up
Seal up gaps.
Strong summer sun can dry out the sealing around the doors and windows and any resulting gaps could lead to leaks. Check the seals that you have are still in place and, where they're not, use caulking to repair them.
Treat the gas.
Add a fuel stabilizer, which will help keep the gas fresh. Run the engine for a few minutes to move the stabilizer through the system.
Wrap it up.
Covering your RV may not be necessary if it will be parked in an open area with lots of sunshine (to help melt any accumulating snow) and no trees which drop debris. If you use a tarp, be sure it's breathable. Plastic tarps can make the interior of the RV sweat and trap moisture. Crack the windows to help prevent mildew.
Spring
RV Maintenance
The end of a long winter means it's time for some outdoor RV fun and adventure! Chances are, your RV hasn't been used in a few months. Taking a few minutes to make sure everything is running properly is not only easy, but also very important.

Here are some tips to make sure your home away from home is in good shape before you hit the road:
Check fluids
Inspect wheels
Check generator
Check the A/C
Check towing setup
Smart Ways
to Save Big
Go to geico.com for a fast, free quote for renters or
homeowners insurance
Combine & conquer
Protect your property and you could score savings with our Multi‑Policy Discount.
Do you rent?
Help safeguard all of your possessions with a renters insurance policy.
Do you own?
The GEICO Insurance Agency could help protect your house or condo.
Pay

Painlessly
You've got options. Pick the plan that works for you at: geico.com/payments
Set up automatic payments
Stop worrying about your bills. Sign up with Electronic Funds Transfer (EFT) or your credit or debit card, and you'll never be late again.
Spread your payments out...
Choose the number of installments that work for your life—and budget.
...or pay in full
Pay the full premium by the policy effective date and you're done! (And you'll avoid installment charges.)
Go green
Sign up for paperless billing and do it all online. eBill and ePolicy are great ways to keep track of your payments and policy documents.
Download our app
Pay your bill anywhere, anytime, and sign up for text alerts when payments are due. Text MOBILE to 43426 to download now.
Message and data rates may apply.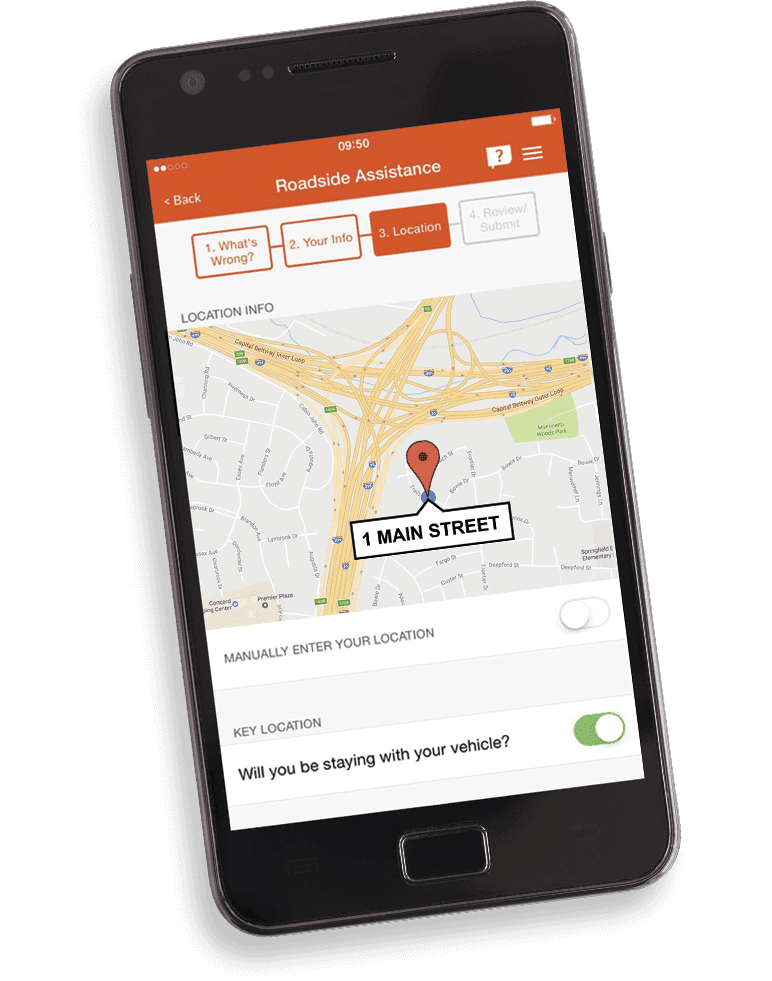 Make it easy:
Download the

app
Proof of insurance
is available on your phone or tablet in the form of digital ID cards.
Manage your policy
by paying a bill, adding a driver or vehicle, or changing coverages.
Find gas
locates the lowest real‑time prices of fuel nearby—and gives you directions there.
Virtual assistant
lets you chat 24/7. Dusk or dawn, we can answer your questions on your time.
Roadside Assistance
Flat tire? Ran out of gas? Our Emergency Roadside Service (ERS) can help. Log in to your GEICO Auto Policy or call (800) 424‑3426 to get a quote or add it to your policy.
We see
More Savings
in your future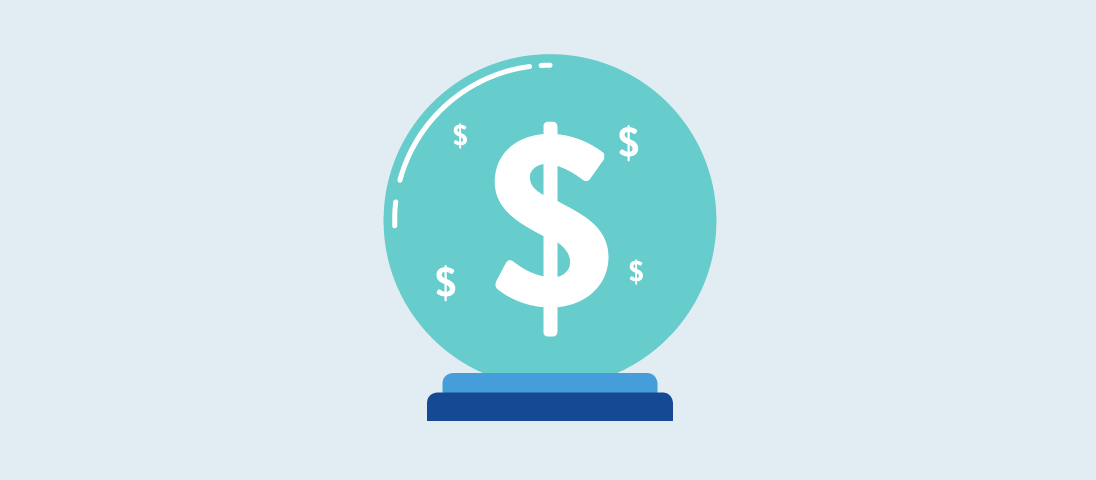 Whether you're getting married, buying a home or adopting a pet, GEICO's here to
grow with you.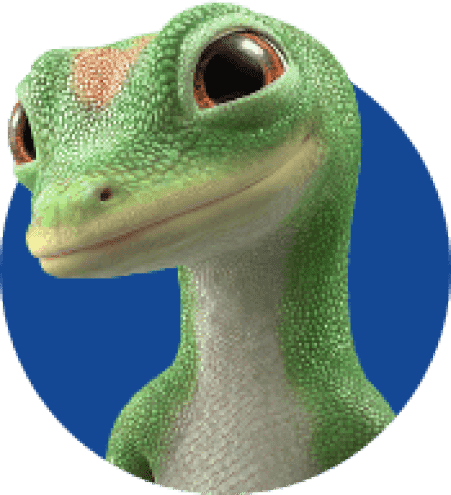 The above is meant as general information and as general policy descriptions to help you understand the different types of coverages. These descriptions do not refer to any specific contract of insurance and they do not modify any definitions, exclusions or any other provision expressly stated in any contracts of insurance. We encourage you to speak to your insurance representative and to read your policy contract to fully understand your coverages. Some discounts, coverages, payment plans and features are not available in all states, in all GEICO companies, or in all situations. Homeowners, Renters, Condo, Pet, Travel, Flood, Term Life, Jewelry, and business operations and property coverages are written through non-affiliated insurance companies and are secured through the GEICO Insurance Agency, Inc. Boat and PWC coverages are underwritten by GEICO Marine Insurance Company. GEICO Auto policyholders could be eligible for a premium discount on their GEICO Marine Insurance policy. Motorcycle and ATV coverages are underwritten by GEICO Indemnity Company. GEICO Portfolio Identity Theft Protection is provided by Iris Powered by Generali and is secured through the GEICO Insurance Agency, Inc. Identity Theft Insurance is underwritten by Generali U.S. Branch. The GEICO Personal Umbrella Policy is provided by Government Employees Insurance Company and is available to qualified Government Employees Insurance Company and GEICO General Insurance Company policyholders and other eligible persons, except in Mass. Commercial auto coverage is underwritten by Government Employees Insurance Company. In some cases commercial auto coverage is provided through GEICO Insurance Agency, Inc., either under an arrangement with National Indemnity Company (NICO), a Berkshire Hathaway affiliate, or with non-affiliated insurers. Business operations and property coverages are written through non-affiliated insurers and are secured through GEICO Insurance Agency, Inc. The GEICO Mobile app and site received #1 rankings according to the Keynova Group Q1 and Q3 2021 Mobile Insurance Scorecards. If you do not wish to receive future marketing mailings from GEICO, please complete the form available at https://www.geico.com/landingpage/optout/, or send your full name and mailing address, including ZIP code, to Mail Preference, GEICO Marketing, One GEICO Plaza, Floor 4T, Washington, D.C. 20076. GEICO is a registered service mark of Government Employees Insurance Company, Washington, D.C. 20076; a Berkshire Hathaway Inc. subsidiary. GEICO Gecko image © 1999–. © GEICO