What is the DriveEasy Participation Discount? How do I get it?
This is a discount that GEICO offers for users who are participating in DriveEasy to become a safer driver in select states (see state availability). If you are interested in joining the program, give us a call at (800) 841-3000.
What states offer the DriveEasy Program?
DriveEasy is currently available to eligible GEICO policyholders in the states of Connecticut and Pennsylvania. Stay tuned for additional states!
Do I need to activate DriveEasy when taking my trips?
Not at all. Once you initially adjust your settings when you install the application, you don't need to open or close DriveEasy on your trips! DriveEasy remains in a dormant state, until driving-like behavior is detected.
Once your trip ends, the app will upload the data to the cloud. The data is processed, and then your trip information and scores are sent back to be displayed on your smartphone.
How does DriveEasy know I'm the person driving?
DriveEasy uses technology that detects movement, relies on your phone's sensors, and uses your GPS location. It will identify when you're a passenger in the car and/or when you're on a bus or train so your trip does not count in your score. DriveEasy will only count trips when you're the driver.
If DriveEasy misclassifies the trip type (Driver, Passenger, or Not a Car), you are able to correct the trip. See How do I correct my driver status?
What if I pass my phone to a passenger while I am driving? Does DriveEasy still count that as distraction?
The DriveEasy app doesn't have a way to distinguish if the phone use was by the driver or the passenger, therefore the app will consider their use of your phone while you are driving as distracted driving.
How do I correct my driver status?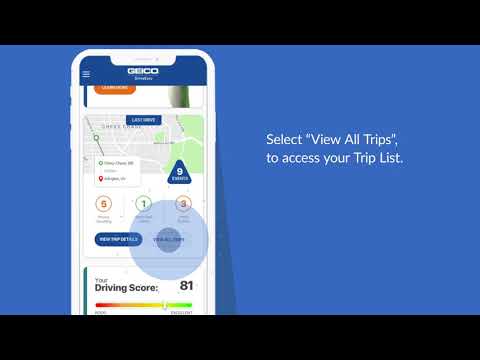 On occasion, DriveEasy may misclassify a trip type (Driver, Passenger, or Not a Car). If this happens, correct the trip's driver status by selecting View All Trips from the Last Drive card. Then, select the trip with the incorrect driver status. Once you've selected the trip, click on the driver status selector (marked Driver, Passenger, or Not A Car), and select the correct status.
What happens if DriveEasy missed one of my trips?
This happens very rarely, so you'll usually have nothing to do after your trip! If it does, your location services may have been off or your trip was considered short (less than a mile). Make sure your location services are on. If we should have logged your trip, let us know by reporting the issue in the Feedback feature in the app menu.
What if DriveEasy doesn't log the start of my trips?
The app will often miss the first ¼ mile of a trip because it makes sure you really are on a trip before gathering GPS information. If the trip was longer and we should have logged your trip, let us know by reporting the issue in the Feedback feature in the app menu.
How often should I have to log into the app?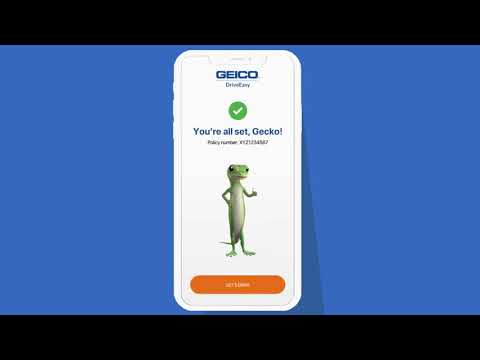 Once your registration is complete by logging into the app and setting up your phone's permissions, all you have to do is remain logged in and drive.
What behaviors does the DriveEasy program consider distracted driving?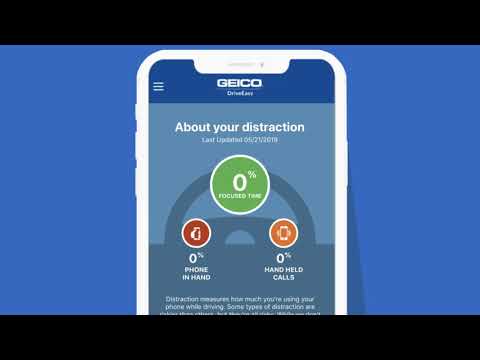 DriveEasy logs two types of distracted driving behaviors, handheld phones calls and active phone use.
Type
Counted in score?
Hands Free Phone Calls
NO
Handheld Phone Calls
YES
Active Phone Use
(e.g., holding it, tapping)
YES
Passive Phone Use
(e.g., inmount, screen on)
NO
Reminder: Active phone use is touching your phone for any reason (GPS, minimizing screens, unlocking your phone, etc) and could negatively impact your driving score since all of these actions can be distracting you from driving! This also includes other passengers using your phone since the app cannot distinguish who is using the phone during the trip.
How is my Driving Score calculated?
Distracted driving, hard braking, time of day, and distance driven all impact your overall driving score. Some of these behaviors impact your score more than others, based on the risk associated with those behaviors.
DriveEasy mentions "Dangerous Times" – what does that mean?
It calculates when you're driving and for how long. DriveEasy divides your day into three-hour blocks, each with a different relative risk value. For example, driving at 3 am on a Saturday is riskier than 12 pm on a weekday. Dangerous Times calculate the frequency and duration of your trips during those established time blocks.
DriveEasy mentions "Hard Brakes" – what does that mean?
Our technical definition of a hard brake is when you decelerate at least 7 mph per second. We want to be transparent when we measure your braking behavior, which is part of your driving score.
How do I stop the app from logging my driving that is a primary part of my occupation?
At this point in our program, we do not have a way to separate work and pleasure mileage. We log all mileage regardless of which vehicle you drive to provide you with the most accurate driving feedback. You are welcome to use our program, no matter your occupation, but you would still be required to stay logged into the app at all times and your driving behaviors while working would be included in your score.
Why don't I have a discount? (Preview customers)
We really appreciate the participation and feedback from all of our GEICO Drive users! However, only those users that sign up for the DriveEasy Participation Discount in participating states after September 2019 will be eligible.
Why was the name changed from GEICO Drive to DriveEasy?
GEICO Drive was the name of our pilot program, which began in June 2019 for a group of users to test the GEICO Drive app and its functionality before launching to our larger group of policyholders. Thanks to the feedback and support of our GEICO Drive participants, the program has evolved and taken on a new name, DriveEasy.
Why isn't one of my drivers listed on the DriveEasy app?
It could be due to a number of reasons such as:
The driver is not active on the policy
The driver doesn't have an active U.S driver's license
The driver is a DriveEasy participant on another GEICO policy
The driver isn't actively participating in the program
As a reminder, by participating in the DriveEasy Program you and your drivers agree to actively participate. If all drivers on the policy do not actively participate, GEICO has the right to remove the policy from the DriveEasy Program which will remove the participation discount.
How do I register and complete enrollment in the DriveEasy app??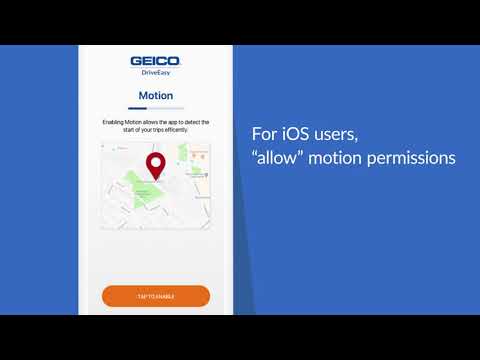 Check out our quick enrollment video! As a reminder, downloading and getting set up in the DriveEasy app is required to keep your participation discount.