Roadside Assistance With Emergency Roadside Service
As Little As $14 A Year, Per Car
We'll be there when you need us.
Sometimes your car doesn't love you back. Breakdowns and flat tires can happen anytime, so we're here to take the worry out of your travels. Emergency Roadside Service from GEICO helps with:
Jumping a dead car battery
Replacing a flat tire with your spare
Delivering gas when your tank is empty
Sending a locksmith when you're locked out (Up to $100)
Towing (not related to an accident)
We can help you with these hassles and get your car back on the road or to a facility where repairs can be made.
Log in to your GEICO Auto Policy or call (800) 42-GEICO (4-3426) to get a quote. This coverage is only available to GEICO Auto Insurance Policyholders.
GEICO's Mobile App Makes Roadside Assistance Even Easier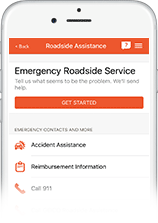 Open the GEICO Mobile App, tell us what seems to be the problem, and we'll send help.
You can get roadside help with the GEICO Mobile app on your Android or iOS device. In the app, you'll get:
24/7 assistance
GPS locator
Quick response
Easy, personalized experience
Or, text ROADSIDE to 43426 (GEICO) to receive a link to download the app. †
† GEICO does not charge for this service. However, message and data rates may apply from your mobile carrier.
Please Note:
These are general policy descriptions to help you understand the different types of coverages. They are not intended to modify any provisions in any contract of insurance. Always read the insurance contract for specific explanations of coverages and exclusions. In North Carolina, Emergency Road Service is called Towing and Labor Coverage. Services offered may vary by state.
Important Message from your Cellular Provider
This is not a Cellular Provider application. If you use this application, it may require your Cellular Provider to disclose your customer information, including Mobile Phone Location Information, to the application provider or some other third party. By providing your consent, you authorize your Cellular Provider to disclose your information to third parties to enable this application. Check the application's terms of use and the policies for more information about how the application will collect, access, use or disclose your information. Terms of use and other policies usually are available on the application provider's website. If you aren't comfortable with the application's policies, don't use it. You acknowledge and agree that (1) your relationship with the application provider is separate from your relationship with your Cellular Provider; (2) your Cellular Provider is not responsible for this application; and (3) you will hold harmless your Cellular Provider and its subsidiaries, affiliates, officers, employees, agents, successors and assigns from any judgments, claims, actions, losses, liabilities or expenses arising from or attributable to this application or the acts or omissions of the application provider.