Automatic Payments
How do automatic payments work?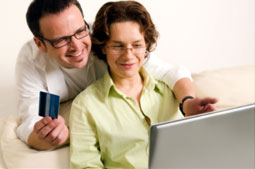 Automatic bill payment is an easy way to pay your policy. No more stamps, no more hand cramps writing checks, and no more phone calls. One time set up and your payments will always be made on time, as long as the funds are available. If you sign up for text alerts, we will send a reminder before processing your payment.
Enroll today and start enjoying the convenience of automatic bill payments.
Automatic Payment Options
Choose Electronic Funds Transfer (EFT) to link your checking account to your GEICO policy and set up automatic payment deductions. Or, if you prefer, you can set up Recurring Card Payments (RCP) to make automatic payments using a debit or credit card.
Once enrolled, your payments will be automatically processed according to the schedule you select. Plus, if you enroll in EFT, you could save up to $36 a year on reduced installment fees.
Signing up is a breeze.
The easiest way to enroll in automatic payments is to manage your policy through geico.com, and visit the billing Payment Methods page.
Still need to set up your online account? Register with your policy number, date of birth, and your ZIP Code. Contact us if you need more help.
Contact Us
We're here for you 24 hours a day, 7 days a week. The quickest way to contact us is through our app or online. You can also chat for immediate help.