How To Download Your Digital Insurance ID Cards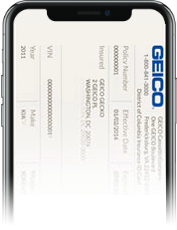 Everybody knows that 15 minutes could save you 15% or more on car insurance. But did you know that GEICO's Digital ID Cards could save the world? OK, maybe not the world, but it could help save millions of pieces of paper each year, and that's a start.
Using Digital ID Cards through the GEICO Mobile App* gives you the ability to view, email or print them right from your phone. Optimized to fit your screen, proof-of-insurance has never looked this good. Up-to-date insurance information in your phone means no more worrying about an expired insurance card while also greatly reducing the risk of paper cuts.
As legislation catches up with technology, more states are allowing Digital ID Cards as valid proof-of-coverage. Please check our list of states to see if Digital ID Cards are accepted in your state. If your state does not allow Digital ID Cards, check back frequently as the list of states that allow digital proof-of-coverage is growing.
Digital ID Cards are available to iOS and Android users. Just visit one of the store links below to download the GEICO Mobile App.
Contact Us
Contact us 24/7 through our Mobile app, online, or by phone.