Classic Car Insurance
Please call 855-624-3318 for a free classic car insurance quote
(Mon-Fri: 8 AM-9 PM ET)
To qualify, your collector vehicle should be:
1979 model year or older
Used only for exhibitions, club activities, and occasional pleasure/leisure; not primary transportation
Stored in a fully enclosed and locked structure
Manage Your Collector Auto Policy

For policies with Assurant:
Call (866) 344-2527 to review your policy with a customer service agent.
Hours:
Mon – Fri 8:00 AM – 8:00 PM (ET)
Insurance for Your Classic, Cool, One-Of-A-Kind Vehicle
If you are one of the lucky few who own an exotic, classic or collectible car, then you need classic car insurance to protect your cherished investment. We are dedicated to assisting automobile collectors find the best classic car insurance on the market, specialized for their collector or antique vehicle. Call and get a free quote today!
The GEICO Insurance Agency can help you secure an insurance policy
We've teamed with Assurant and American Modern Insurance Group® to offer insurance policies designed for classic car lovers like you. Why wait; call (855) 624-3318 to get a free classic car insurance quote now–that car isn't getting any younger!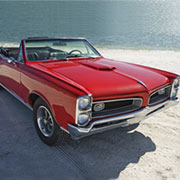 So why should I get classic car insurance?
Some of the major reasons you should consider a classic car insurance or motorcycle insurance policy are
No vehicle appraisal is required
Your vehicle will be covered at Agreed Value, which means no depreciation in the event of a claim
Low deductibles
Convenient Payment Options
Taking care of your collector car may be a lot of work but managing your collector car insurance policy is not!
American Modern Policyholders may use their service website to pay a bill, review or change information, report a claim and more!
For service on an Assurant policy, you may call (866) 344-2527 (Mon-Fri 8:00 AM-8:00 PM ET). You can request documents, make a payment or make changes to your policy.
If you need to make other changes to your policy or questions about your coverage, you can call us anytime at (866) 760-4166.