Insurance Options For Married Couples
Are you tying the knot?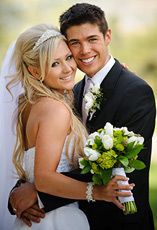 One of the biggest decisions you'll have to make is getting married. Certainly wedding day jitters and all the planning can freak you out. But have you spoken finances to your significant other? The money discussion can be quite stressful! But it's one of the discussions that's necessary to bring up early on, especially if you plan on a successful marriage.
To make decisions easier:
Start by having an honest discussion about your current financial situation.
Do you have any outstanding credit card or student loan debts?
Does one of you already own a home?
What insurance coverages do you both have that you may be able to consolidate?
How can you save as a married couple?
Consider all these insurance options as you become a family.
How many vehicles are insured?
You both likely have cars. Could you combine auto policies and save? GEICO could save you up to 25% on most of your coverages with the multi-car discount. Combine your policies into one and save. Call us at (800) 861-8380, and we will help.
What about renters or homeowners insurance?
Of course, you're moving in together. Did you know that by bundling your auto insurance and renters and/or homeowners policy you could save even more? GEICO offers a "multi-policy discount" when you do.
Call us at (800) 861-8380 to learn more and make changes to your policies.
Not a GEICO policyholder? Get a car insurance quote online.
What about the rest of your life together?
If you've never thought about life insurance, now is the time to consider it. Help protect your family's future—purchase a life insurance policy or update your current limits.
If you still have questions or are ready to get a quote, call us at (888) 532-5433 and speak to an insurance representative. You can also get a life insurance quote online.
When it rains, it could pour.
An umbrella won't help much on your wedding day, but it will help provide a canopy of protection against catastrophic financial events if your homeowners or car insurance limits are exceeded. Learn more about what an umbrella insurance policy covers and if this is a wiser choice.
Read the following additional resources for married couples.
To learn about all our discount options visit our insurance discounts section. Congratulations on your new life together. We hope to serve you in the near future.
Security Notice
Please note that when you click on some of the links on this page, you will be taken to sites not owned by GEICO. Any information that you provide directly to them is subject to the privacy policies posted on their websites.
Contact Us
We're here for you 24 hours a day, 7 days a week. The quickest way to contact us is through our app or online. You can also ring us by phone.
Check Out a New Quote
You are about to leave geico.com