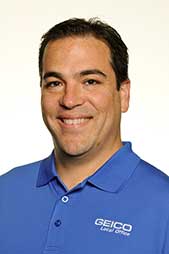 Get to know your Miami insurance agent.
Hello, my name is Mario Sueiras and I am your local GEICO Insurance Agent in Miami. I have had the pleasure of serving our community as a GEICO Insurance Agent since 2008. I have lived in Miami my entire life, and have worked in the insurance industry for over 25 years. I understand what's important to the people of this city, and I know I can provide you with the insurance needed to protect what matters to you most.
Did you know as a member of the MDCC and FIU alumni associations, as well as other local Universities and organizations, you may be eligible for an auto insurance discount? Call or stop by our local office today to review all of the insurance discounts you could be eligible for. In addition to auto insurance, our agents can help you with boat, renters, umbrella, motorcycle, flood and life insurance protection. You may spot us around town sponsoring and working at local events near you throughout the year.
Visit the Miami insurance agency.
We are conveniently located at 8514 Southwest 8th Street, between the 826 (Palmetto Expressway) and the Florida Turnpike on Southwest 8th Street (Tamiami Trail) in the Festival Plaza. We're in the neighborhood so come by and get a no-obligation quote to see how much money we can save you! You can reach us by phone outside of our regular office hours Monday-Friday from 9:00 AM - 6:30 PM and Saturday from 9:30 AM - 2:00 PM.
Office Hours
Please call or email your local GEICO Office to learn more as office hours may vary.
Monday: 9:00 AM - 6:30 PM
Tuesday: 9:00 AM - 6:30 PM
Wednesday: 9:00 AM - 6:30 PM
Thursday: 9:00 AM - 6:30 PM
Friday: 9:00 AM - 6:00 PM
Saturday: 9:30 AM - 5:00 PM
Sunday: Closed