Finding Parking Has Never Been So Easy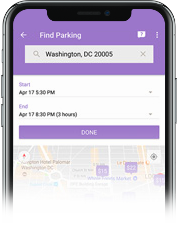 Ever wish you could find parking without having to drive in circles forever? Now you can.
Just have your mobile device handy and turn on geo-location. From your mobile device, you can find and book parking before arriving at your destination.
Avoid the stress of being late to your next sporting event, meeting, or appointment. We can help you save money, time, worry, and find adequate parking from wherever you are.*
You can sort by a variety of options (even amenities). Once you decide where you'd like to park, you can select "Book Now" and pay. Your parking confirmation will appear on your mobile device immediately after paying. All you need to do is drive to the garage and show the garage attendant your mobile pass and a smile.
From The Parking Locator You Can:
Book by date and hours needed
Sort by distance, price, customer rating and more
Find special mobile or online rates
View photos of garages (No more settling for sketchy garages)
View a map of all available parking locations
Compare local parking prices
Adjust your parking start and end times
Read customer reviews and experiences
See how many spots are available
Get directions to the parking garage, including landmarks and nearby destinations to help you get there
Now, start saving time and money on parking. We've got you covered.
Contact Us
We're here for you 24 hours a day, 7 days a week. The quickest way to contact us is through our app or online. You can also chat for immediate help.