Bring GEICO along for the ride.
GEICO Mobile has many additional features, above and beyond what you've come to expect from your insurance provider. Whether you need a Lyft, you're looking to save on gas, or just want to pay your bill—we've got your back. See why GEICO Mobile received #1 rankings according to Dynatrace's Mobile Insurance Scorecard and check out the insurance app today.
See all the easy-to-use tools in the convenient GEICO Mobile App.
See why we're #1.
"Very easy to use, talk to customer service and request roadside assistance. Can even take pictures and file claims on the app!"
5 Star Google Play Review (6/27/2019)
"This app is great! Makes it so easy for me on the go! Love that I can manage everything from my phone."
5 Star App Store Review (6/10/2019)
Watch how GEICO Mobile makes it easy
We're more than just an insurance app.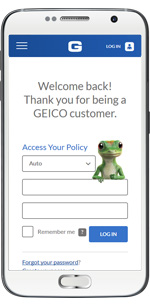 geico.com
Even when you're out and about, you can still access all of the great features of geico.com. Our site is mobile friendly without cutting out all the features you love.
Get a quote for your car, motorcycle and more
Log in to your policy
Report a claim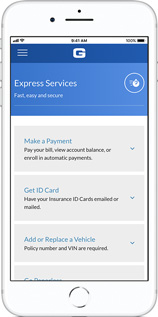 GEICO Express Services
No login required. Quickly do what you need to do and get back to the things that matter. Talk about making it easy!
Pay your bill
Get ID cards
Make updates to your policy
Compare the features of geico.com, GEICO Express, and the awesome GEICO Mobile App.
Help shape the future of GEICO Mobile by joining Power Users.
Got questions? We've got answers.
Do I need an account to use the GEICO Mobile app?
You do not need to set up a separate account to service your policy through GEICO Mobile; you can login using the same User ID/password you use online. However, you do not need an account to get a quote, file a claim or access extra features!
Will I stay permanently logged into the app?
You can select "Keep Me Logged In" which will save your User ID and password to your device making logging into your policy effortless.
How do I login with my fingerprint?
If you have a device with a fingerprint sensor enabled and have a fingerprint stored on your device, you will receive a prompt asking if you'd like to use your fingerprint on your next login.
How do I save my ID card for offline access?
Once you have logged into the app and viewed your ID Cards, they will be automatically saved to your device. Next time you're logged out, you can easily access your ID Cards from the login screen.
What about security/privacy in GEICO Mobile?
GEICO cares about your security and privacy. All of your personal information is encrypted for any communication with GEICO servers.