Bring GEICO along for the ride.
GEICO Mobile has many additional features above and beyond what you've come to expect from your insurance provider. Whether you need a Lyft, you're looking to save on gas, or just want to pay your bill—we've got your back. See why GEICO Mobile received #1 rankings according to Keynote's Mobile 2016 Mobile Insurance Scorecard and check out the app today.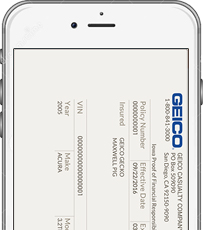 Digital ID Cards
The quick and paper-cut free way to access your insurance ID cards on the go. View, email, and print your ID cards when you need them, right from your phone.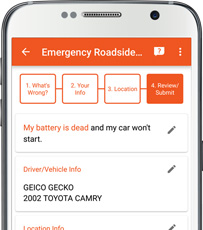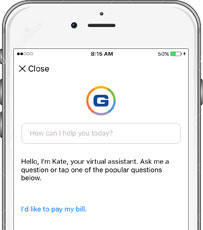 Virtual Assistant
Let Kate, GEICO Mobile's virtual assistant, help you find answers to your questions faster than ever before. She's available 24/7, just like GEICO.
See why we're #1.
"This is a great app for easy access to your GEICO account. I have used it to print a good copy of my insurance card and to update info on my account. Totally worth the download."
5 Star Google Play Review (02/11/2017)
"Love GEICO insurance and the App! Recently had a flat tire and the roadside assistance feature on the app was super easy to use. I received friendly and professional help quickly and was back on the road in no time. Thank you, GEICO!"
5 Star App Store Review (02/04/2017)
We're more than just an app.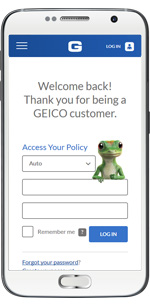 geico.com
Even when you're out and about, you can still access all of the great features of geico.com. Our site is mobile friendly without cutting out all the features you love.
Get a quote
Log in to your policy
Report a claim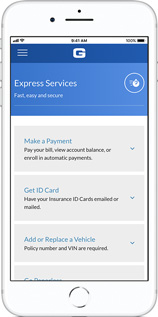 GEICO Express
The quick way to service your policy on the web. You can quickly do what you need to do and get back to the things that matter. Talk about making it easy!
Pay your bill
Get ID cards
Make updates to your policy
Got questions? We've got answers.
Do I need an account to use the GEICO Mobile app?
You do not need to set up a separate account to service your policy through GEICO Mobile; you can login using the same User ID/password you use online. However, you do not need an account to get a quote, file a claim or access extra features!
Will I stay permanently logged into the app?
You can select "Keep Me Logged In" which will save your User ID and password to your device making logging into your policy effortless.
How do I login with my fingerprint?
If you have a device with a fingerprint sensor enabled and have a fingerprint stored on your device, you will receive a prompt asking if you'd like to use your fingerprint on your next login.
How do I save my ID card for offline access?
Once you have logged into the app and viewed your ID Cards, they will be automatically saved to your device. Next time you're logged out, you can easily access your ID Cards from the login screen.
What about security/privacy in GEICO Mobile?
GEICO cares about your security and privacy. All of your personal information is encrypted for any communication with GEICO servers.