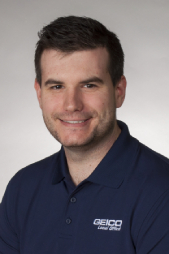 Meet Keith Roberts, your local GEICO insurance agent in Lubbock, Texas.
Hi! My name is Keith Roberts. I have been in the insurance business since 2012, working in West Virginia and Ohio, before moving here to Lubbock. I love serving my community. One way I do that is by helping people with their insurance needs. It's important that folks find the right insurance while also saving money!
Learn about Keith Roberts, your GEICO insurance agent in Lubbock, Texas.
Aside from insurance, the two passions in my life are spending time with my family and playing golf. I love traveling with my wife and kids, as well as spending quality time outdoors. I also enjoy spending a beautiful afternoon at one of the many great golf courses in the Lubbock area!
Keith Roberts understands more than just insurance in Lubbock.
My team can help you save money on car insurance, but that's not all. Do you own a boat or personal watercraft? Make sure you get the right coverage before heading out on Buffalo Springs Lake! Do you love camping or RVing around Lubbock and the Southwest? We can help insure your RV. You can also get help protecting your house, condo, or apartment through the GEICO Insurance Agency. Ask about GEICO's Multi-Policy Discount!
Keith Roberts and his team are involved in the Lubbock community.
I enjoy attending Texas Tech Red Raider sporting events with my family - be it football, baseball, or basketball. My team at our local office look forward to getting out to the ABC Pro Rodeo, Lubbock Arts Festival, JABFest, and Candlelight and the Ranch. Personally, I work with the Lubbock Chamber of Commerce.
There are many family-oriented things to enjoy in the area, including the Lubbock Lake Landmark, Lubbock Water Rampage, and National Ranching Heritage Center. Lubbock is a big city, but the friendly people give it a down-to-earth, small-city vibe!
Keith Roberts is here for you in Lubbock, Texas!
Office Hours
Please call or email your local GEICO Office to learn more as office hours may vary.
Monday: 9:00 AM - 6:00 PM
Tuesday: 9:00 AM - 6:00 PM
Wednesday: 9:00 AM - 6:00 PM
Thursday: 9:00 AM - 6:00 PM
Friday: 9:00 AM - 6:00 PM
Saturday: 10:00 AM - 4:00 PM
Sunday: Closed