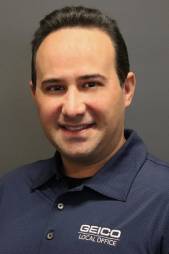 Meet Vincenzo Alaimo, your local GEICO insurance agent.
Hi! My name is Vincenzo Alaimo. I began my insurance career in Venezuela, where I am originally from. I moved here in 2015 and I've loved getting to know Salt Lake City. Back home, I spent a total of 10 years in insurance sales, then in residential development. Now that I've opened my GEICO Local Office here in southern Salt Lake City, I'm excited to be using my experience to help the people in my community. If Spanish or Italian are your preferred languages, I have full-time staff available to assist you.
Learn about Vincenzo Alaimo, your GEICO insurance agent in Salt Lake City, Utah.
When I'm not in the office, I enjoy skiing right here in my own backyard at Utah's renowned local ski resorts! I also really enjoy hiking and camping as well as travelling —my family and I love to spend time on the beach!
Vincenzo Alaimo understands more than just insurance in Salt Lake City.
One of my team's biggest goals is to help our policyholders save money on car insurance, but our expertise doesn't stop there. Are you with the Utah National Guard? We may be able to offer you a special Military discount! If you like to spend time at Wasatch Mountain State Park, ask us how we could help insure your RV. We can also help bundle your auto coverage with homeowners insurance through the GEICO Insurance Agency —so don't forget to ask us about GEICO's Multi-Policy Discount.
Vincenzo Alaimo and his team are involved in the Salt Lake City community.
My team and I look forward to attending many local sporting and cultural events. I'm a big fan of the Real Salt Lake Soccer Team as well as the Utah Jazz. I also enjoy attending the Sundance Festival every year. Personally, I work with the Salt Lake City Chamber of Commerce.
Vincenzo Alaimo is here for you in Salt Lake City, Utah
Office Hours
Please call or email your local GEICO Office to learn more as office hours may vary.
Monday: 9:00 AM - 7:00 PM
Tuesday: 9:00 AM - 7:00 PM
Wednesday: 9:00 AM - 7:00 PM
Thursday: 9:00 AM - 7:00 PM
Friday: 9:00 AM - 7:00 PM
Saturday: 10:00 AM - 2:00 PM
Sunday: Closed