About Classic Car Insurance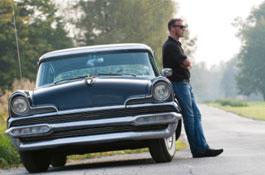 Maybe your car's seen more presidential elections than your grandfather, or it could have been one of the cars cruising in the movie American Graffiti. Or perhaps it was shipped to you from a small factory overseas in a town that most people can't pronounce. Either way, a classic car, antique motorcycle or Vietnam War Jeep requires more than a standard insurance policy.
When should I purchase a classic auto policy?
You may want to get a collector vehicle insurance quote if your car, truck or motorcycle is...
A new exotic car such as a Ferrari, Lotus, Lamborghini, Bentley, etc.
An older (at least model year 1979) vehicle that is securely stored and not used as primary transportation
A new replica car such as a reproduction Shelby Cobra roadster
A classic military vehicle, hearse, fire truck, amphicar, etc.
These are just some examples, if you have questions or want to get a quote on your vehicle call us at (866) 344-2527.
How old does a car have to be to get classic car insurance?
Age isn't the single determining factor in a decision to purchase classic car insurance. You may need classic car insurance for a vintage car or it may be on a vehicle that's a unique or rare design. Don't worry, we can help you with the information you need to decide if a classic car policy meets your needs.
So why should I get a special policy?
Traditional insurance policies are great at getting your daily driver back on the road should something unfortunate happen. But they're not always the best at sorting out some of the unique issues that come into play when parts are literally impossible to find or the vehicle represents a substantial financial investment. Why not get a classic car insurance quote right away?
Some of the major reasons you should consider a collector car insurance or motorcycle insurance policy are:
No vehicle appraisal is required
Your vehicle will be covered at Agreed Value, which means no depreciation in the event of a claim
Low deductibles
Sounds good—What happens when I'm on board?
Once you've gotten your pride and joy insured, you'll be able to call (866) 760-4166 (Mon–Fri 8:00 AM–9:00 PM ET) for top-notch service on your American Modern Insurance Group® policy.
If your policy is with Assurant, you may call (866) 344-2527 (Mon–Fri 8:00 AM–8:00 PM ET) and a counselor will be happy to help you.
Please note:
The above is meant as general information and as general policy descriptions to help you understand the different types of coverages. These descriptions do not refer to any specific contract of insurance and they do not modify any definitions, exclusions or any other provision expressly stated in any contracts of insurance. We encourage you to speak to your insurance representative and to read your policy contract to fully understand your coverages.
Contact Us
We're here for you 24 hours a day, 7 days a week. The quickest way to contact us is through our app or online. You can also chat for immediate help.