Snowmobile Insurance Coverage Information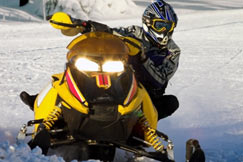 Nothing warms the heart of a snowmobiler like a vast, open stretch of untouched snow. And nothing warms the heart of GEICO like helping snow lovers like you get a great snowmobile insurance policy! Surprised?
Of course, GEICO is primarily known for auto insurance (Who hasn't seen our commercials?) but we can also help you get a snowmobile policy through the GEICO Insurance Agency that covers most snowmobile makes and models (including high-performance machines).
Call (800) 861-8380 for more details.
Snowmobile Insurance Coverage Options
Here is a brief overview of the coverage options that are available:
Year-round coverage
Safety apparel coverage
Towed trailer coverage
After-market parts and accessories
Transport trailer coverage
Collision coverage and other than collision coverage
Increased limits on liability
Snowmobile Insurance Availability
Snowmobile insurance is available in the United States in all states except Hawaii, North Carolina, Texas and Washington D.C. Please note that coverages and coverage amounts vary by state. All coverages may not be available in all areas.
Please note:
The above is meant as general information and as general policy descriptions to help you understand the different types of coverages. These descriptions do not refer to any specific contract of insurance and they do not modify any definitions, exclusions or any other provision expressly stated in any contracts of insurance. We encourage you to speak to your insurance representative and to read your policy contract to fully understand your coverages.
Contact Us
We're here for you 24 hours a day, 7 days a week. The quickest way to contact us is through our app or online. You can also chat for immediate help.