Learn More About Travel and Flight Insurance
No one plans to have their vacation ruined.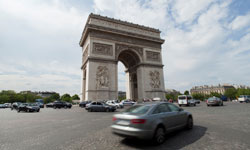 Travel is important, whether it's for business or for pleasure. But what happens when your travel plans go awry? A travel insurance policy can help solve travel problems so you can get back on the road again.
What is travel insurance?
Travel insurance pays covered expenses when a traveler's trip is interrupted or has to be canceled, if a traveler gets sick or injured, or if their luggage is delayed, damaged, or lost. Travel insurance may even cover flight delays and cancellations, or missed connections. The GEICO Insurance Agency, Inc. has teamed up with Berkshire Hathaway Travel Protection (BHTP) to help you insure your trip. You can get a quote for AirCare to protect your flight or get an ExactCare quote from BHTP to protect your whole trip.
What does travel insurance cover?
Travel insurance plans from BHTP are simple and cover a variety of things that can happen when on a trip. There are two plans to choose from, AirCare and ExactCare.
AirCare
AirCare coverage includes:
flight cancellation
missed connections
flight or tarmac delays
lost or delayed luggage
ExactCare
ExactCare coverage includes:
trip cancellation or interruption
emergency medical/dental coverage
baggage loss/delay
travel delay
missed connections
emergency medical transportation
and more
What is not covered?
There are non-covered reasons for some trip cancellations and interruptions. There are also exclusions for some medical expenses.
How much does travel insurance cost?
BHTP can help you design an affordable plan without sacrificing coverage. You can choose product features based upon your needs.
Get your free AirCare or ExactCare insurance quote online and see how affordable it is.
If you choose to get a rate quote online, you will be taken to the Berkshire Hathaway Travel Protection website which is owned by Berkshire Hathaway Specialty Insurance Company, not GEICO. Any information that you provide directly to Berkshire Hathaway Specialty Insurance Company on its website is subject to the privacy policy posted on their website, which you should read before proceeding. GEICO assumes no responsibility for their privacy practices or your use of their website.
ExactCare is provided through Berkshire Hathaway Global Insurance Services, LLC, and AirCare is written through other Berkshire Hathaway affiliates. Both coverages are secured through the GEICO Insurance Agency, LLC.
Benefits may vary by jurisdiction. Please contact a representative to confirm availability.
Contact Us
We're here for you 24 hours a day, 7 days a week. The quickest way to contact us is through our app or online. You can also chat for immediate help.
Check Out a New Quote
You are about to leave geico.com