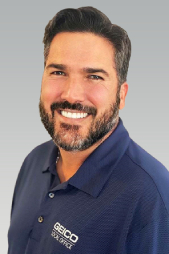 Meet Daniel Ordaz, your local GEICO insurance agent in Mesa, AZ!
Learn about Daniel's experience prior to becoming a local GEICO insurance agent:
Over 7 years of experience as a local agent in offices in Florida, Texas, and Utah
Leadership roles in multimillion-dollar hotel chains and restaurant properties in the Miami International Airport Area and Fort Lauderdale Cruise Port
As your local agent, Daniel has been involved in:
Toys for Tots
G.O. V.E.T.S.
Golf charities for kids
Breast cancer charities and events
As your local agent, Daniel is licensed to serve you in:
Office Hours
Please call or email your local GEICO Office to learn more as office hours may vary.
Monday: 8:00 AM - 7:00 PM
Tuesday: 8:00 AM - 7:00 PM
Wednesday: 8:00 AM - 7:00 PM
Thursday: 8:00 AM - 7:00 PM
Friday: 8:00 AM - 7:00 PM
Saturday: Closed
Sunday: Closed