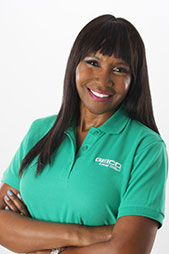 More about how the Bakersfield insurance agency can help you.
Hello, I'm Trenea Smart. I have worked in the insurance industry for over 19 years, and I have served Bakersfield and Kern County as your local GEICO Insurance Agent since 2008. My office can help you with more than just auto insurance; ask about how we can help you with homeowners, renters, and life insurance, too!
Keep an eye out around Bakersfield.
My GEICO insurance agency sponsors many local events. Recently, we've sponsored the great Kern County Fair, the Voices of the Valle singing contest at Mercado Latino, and the High School Football Game of the Week. We have also sponsored events for children with autism, Bike Night, and 15 Minutes events, which teach teen drivers about safe driving habits.
You may spot our GEICO-wrapped truck driving around town. Honk or wave when you see us!
Stop by Trenea's office.
We are conveniently located just off of Rosedale Highway.
Office Hours
Please call or email your local GEICO Office to learn more as office hours may vary.
Monday: 9:00 AM - 7:00 PM
Tuesday: 9:00 AM - 7:00 PM
Wednesday: 9:00 AM - 7:00 PM
Thursday: 9:00 AM - 7:00 PM
Friday: 9:00 AM - 7:00 PM
Saturday: 10:00 AM - 4:00 PM
Sunday: Closed