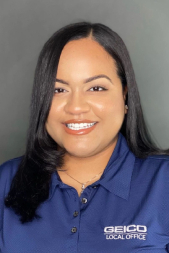 Meet Germany Jimenez, your local GEICO insurance agent.
Hi! My name is Germany Jimenez. Right after graduating college, I started my insurance career as a customer service representative. I earned my insurance license, became a top tier sales agent, and ended up getting promoted to a sales and service performance coach position. Sometime thereafter, I became a sales manager. Eventually, the opportunity arose to open my own agency.
My team and I look forward to helping you with all of your insurance needs.
Learn about Germany Jimenez, your GEICO insurance agent in Manchester, Connecticut.
Policyholders are my number one focus. I love helping and educating customers on all their insurance needs, navigating different coverage options, and helping them save money!
I love traveling and have been to over 15 countries! My favorite has been my family's homeland, Dominican Republic. Between the people, music, food, and culture, you feel so welcome and the people there make sure you have a great time. For those same reasons, Jamaica comes in a close second. I've also had the fortune of studying abroad in Haiti and India during my undergraduate years at the University at Albany.
Germany Jimenez understands more than just insurance in Manchester, Connecticut.
One of my team's main goals is to help our policyholders save money on car insurance, but our expertise doesn't stop there. If you spend weekends at Camp Newhoca or Nelson's Family Campground, we can help you insure your RV! We can also help bundle your auto coverage with homeowners insurance through the GEICO Insurance Agency, so remember to ask us about GEICO's Multi-Policy Discount.
Germany Jimenez and her team are involved in the Manchester community.
Manchester has several museums, live theater, musical events, and many parks to choose from — and we love them all. You might also see us in one of the shopping districts, golfing, or even playing tennis!
Germany Jimenez is here for you in Manchester, Connecticut!
Office Hours
Please call or email your local GEICO Office to learn more as office hours may vary.
Monday: 9:00 AM - 7:30 PM
Tuesday: 9:00 AM - 7:30 PM
Wednesday: 9:00 AM - 7:30 PM
Thursday: 9:00 AM - 7:30 PM
Friday: 9:00 AM - 7:00 PM
Saturday: 9:30 AM - 6:00 PM
Sunday: Closed